Food and Dining in Italy
Restaurants in Italy - The Differences from US
We had both read a bit about dining out in Italy and were going to try and avoid the touristy traps, and for the most part we succeeded. Some things we learned during our first meal out, which was lunch near the Spanish Steps. The waiter brought out a basket of bread before bringing out our meal. Nice touch, huh? Turns out restaurants charge you for the bread regardless of if you want it or not, and they charge per person (just like Chinese restaurants here in the Bay Area charge for rice, on a per person basis). We did not know this was standard practice until we got the bill. Most charge between 1.50 to 3.00 Euro per person. The second thing US travelers must get use to is restaurants do not just bring you ice water. Despite Rome and Venice having some of the best and tastiest tap water around, restaurants will only sell you bottled water with your meal. Sometimes it was cheaper to get wine! We usually got "acqua gassata" or sparkling water. The other thing about Italians, is that they eat on the later side, around 2030 or 2100 at night. Most restaurants do not open until 1800, but stay open later. If you get to a restaurant around 1900 expect it to be pretty empty, unless it is a tourist trap.
Breakfast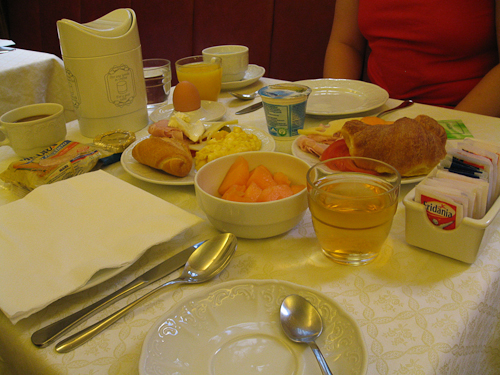 Ahh the most important meal of the day. Most hotels in Italy, from bed and breakfasts all the way to 5 star ones, will include breakfast along with your room. The hotels we stayed at happened to all have "American style" breakfast buffets. Each had an assortment of breads, cereal, and varying degrees of fresh fruit, milk, juices, and cold cuts and cheeses. Ordering coffee is a must, as Italian coffee is one of the best in the world. Starbucks would not survive here. We took the opportunity to fill up so we could eat a lighter lunch while out seeing the sights.
Gelato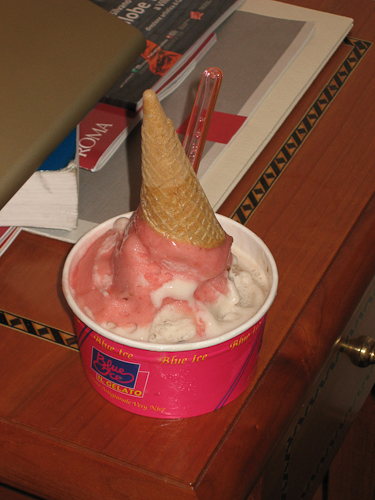 Some people take wine tours, but when in Italy, we did a gelato tour. So many flavors and so many gelletarias. We personally tried banana, walnut, hazelnut, licorice, lemon, melon, chocolate orange, papaya passion fruit, biscotto (biscotti), Bailey's Irish Cream, peach, zaglione, pistachio, watermelon, chocolate chip, vanilla bourbon, caramel, and a few flavors I can not remember. Gelato San Crispino in Rome and Boutique del Gelato in Venice were the favorites. We tried a couple others in Rome and Florence, but they did not measure up to those two. Most places will give you a little cone on top of your gelato when you get it in a cup, so no need to get a cone and have your gelato drip all over you on a hot summer night.
Favorite Restaurant - Pierluigi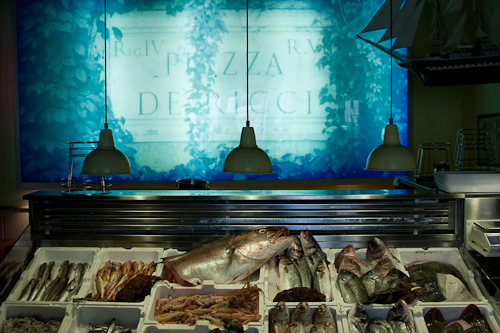 Rome has some incredible restaurants, but the best one we dined at was a suggestion by one of Theresa's co-workers, Pierluigi, which is located on the Piazza di Ricci. We decided to walk there, but even with the aid of a map, could not easily find the restaurant. We had to rely on a nearby shopkeeper where we practiced the universal language of gesturing and counting the number of times he pointed left or right.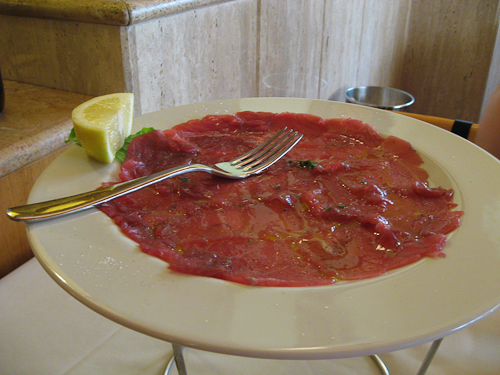 Pierluigi is known for its seafood dishes, so we started out with a tuna carpaccio antipasti, which was lightly drizzled with olive oil, course salt, and garnished with lemon
For our main meal we ordered the pasta frutti di mare and the veal with pink peppercorns. Pasta was perfectly cooked with a rich seafood broth and tomatoes. The veal was smothered in a rich cream sauce... yum.
Stumbled Upon Restaurant - Mio Gioia
Our first dinner in Rome, we decided to wander the streets near our hotel, which was located in Piazza Barberini. The hotel concierge advised us against the restaurants in the immediate vicinity, but advised us to just pick one around the Trevi Fountain. We walked past a couple places which were pretty dead, and then walked past Mio Gioia, which was about half full and had a few locals eating there as well (always a good sign). It looked promising, so we went in.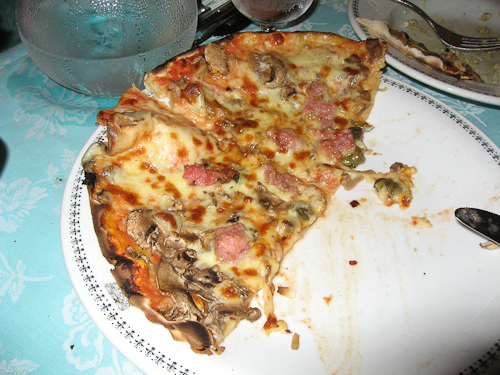 We ordered the pasta carbonara and the pizza giapponese (japanese) whose toppings escape me now, but it did have capers on it with some sort of meat as well. One of the waiters then asked if we were Japanese as well. When we told him we were Chinese, he then decided to tell us about his favorite Italian football (soccer to us Americans) team and its star player, who was from China (or at least that is what I thought he said).
Sweet ending..... Tiramisu......

During dinner we started talking with the couple at the next table. Bill and Jane are from New Jersey and came to the restaurant on the recommendation of their friend who used to study in Rome. We ended up talking with Bill and Jane for a good portion of dinner and a bit afterward before heading back to the hotel.
Sacro e Profano
We had borrowed a Rick Steve guide book from my friend Lian, and one of the places that he recommended was Sacro e Profano, mainly because of the reasonable prices and for their twist on traditional Italian cooking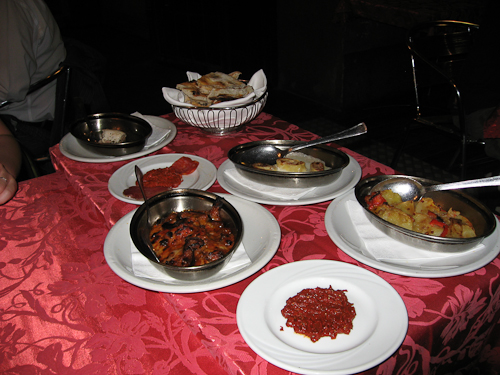 We decided to get the antipasti starter, not realizing that it required a cart be brought out table side to accommodate the 8 dishes that held all the food. Starters included sausage filled crepes, potatoes with peppers, toasted flat bread, baked sea bass bites, and a salty sardine fish paste. By the time we finished, we were almost full.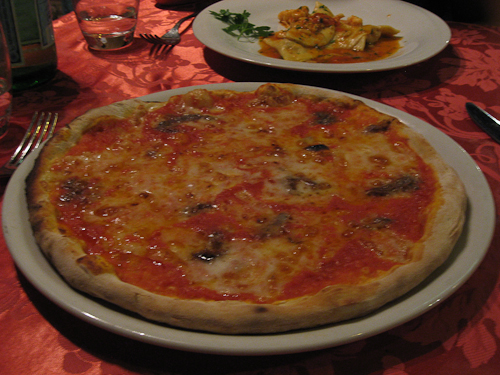 Our main course was swordfish ravioli and pizza with mushrooms and anchovy. We hit Gelato San Crispino around the corner afterward to satisfy our sweet tooth.
Agli Artisti, Venezia
Onward to Venice, where we heeded Rick Steve's advice and went to Agli Artisti, a little quaint restaurant off the the Campo Santa Maria Formosa. Reasonable priced with friendly service, we were extra hungry that night, and decided to order 2 pastas and share a meat course.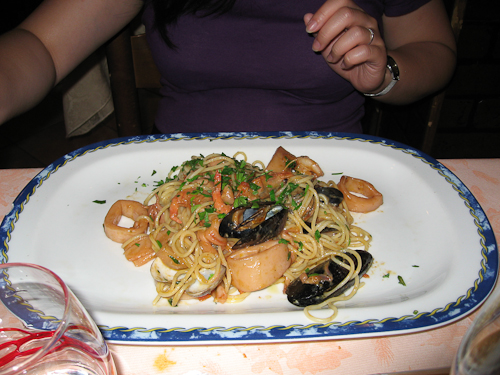 Artisti's version of frutti di mare, spinach ravioli with pancetta cream sauce, and sirloin steak with grilled veggies
Giglio Rosso Ristorante - Florence
Our last meal in Florence, we went to Giglio Rosso, another Rick Steve suggestion. Like most of our trip, we got there a little before 8pm, and by the time we had ordered, the place was full. A cool architectural feature of the restaurant was a wall covered with cabinet fronts (picture above on the left). Not only decorative, we saw staff open the doors to retrieve various things during the course of the night
We ordered a side of porcini mushrooms, the veal shank Ossobuco and "seafood stew" which turned out to be large bowl of mussels and clams steamed in a butter, wine broth (almost like a clam New England clam bake)
Picnic Food
Sometimes you get tired of eating out, so in our time in Florence, we found a little market and bought bread and lunch meat to have for dinner one night and we packed a lunch for the next day when we hit the streets for museums and window shopping. We even got a can of Pringles Rice Infusions which was labeled "Great Taste, Less Naughty"... Hmm.. must have lost something in the translation.