Dropped by Sweet Cup Cafe in Milpitas for dessert after a Friday dinner. The cafe serves up  Vietnamese style dessert drinks.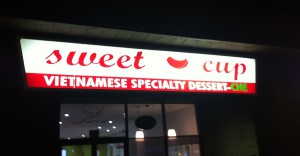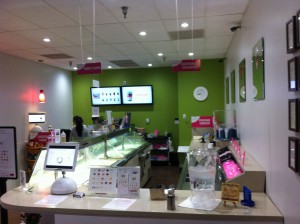 Think of the drinks that are served along side steaming bowls of pho, but with a lot more variety.  They have the standard drinks but you can also customize your drink.  The options are quire extensive and it took some time for us to take in all the choices and to make our selections. You can get the "default" drinks, but for a $1 more, you can customize your drink with a whole menu of ingredients, like jellies, fruit (lychee, longan, etc), puddings, sweet beans. You put in your order using the form below by circling what you want and drinks are made to order.
Some of the ingredients available are: lychee, 4 varieties of sweet beans, colored jellies, coconut, tapioca, jackfruit, and even durian. You can specify up to 7 ingredients, sweetness level, and  which "topper" (coconut milk, coconut juice, longan juice) you want in your drink. For $2 extra, you can even make it a "che" drink by having them put a scoop of ice cream on top (they use Double Rainbow brand). If you become a regular, they will even keep your preferred drink on file.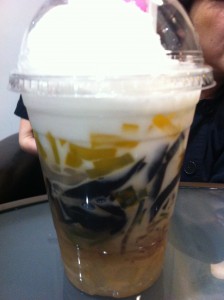 Drinks are fairly large and come layered with whatever ingredients you chose,  topped with a scoop of shaved ice, a spoon for scooping and a large straw should you choose that route of consumption.  Mixing is the normal route, but you can consume it layer by layer if you wish.
Perfect on a hot summer evening and to satisfy your sweet tooth.  Or perhaps after a large bowl of pho you had down the street. Given the dearth of dedicated dessert places near us, this will definitely be on our short list when we are craving something sweet after dinner.