We decided to do a "play it by ear" day trip to San Francisco recently, and decided at the last minute to try Skool, which is sandwiched between Mission Bay and Potrero Hill in the Design District. The concept is best described as Asian Fusion Seafood.

The decor is modern with elements of industrial, befitting its location in what was probably a former warehouse or commercial building. There are some whimsical touches reminiscent of time spent in school. For instance, the menu is printed on sheets of lined loose leaf paper, attached to an old style clipboard and secured with an old fashion pencil.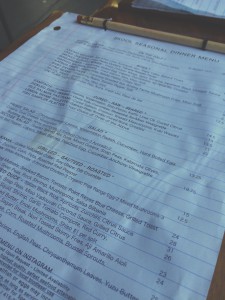 As far as the menu items themselves, it is heavily tilted, as you might expect, toward seafood items, and divided into appetizers, cured/raw fish, salads, and main entrees. Based on Yelp reviews, we decided to do two appetizers, a "fish sampler" and the squid ink spaghettina.
Fried Smoked Salmon Chips w/Miso Aioli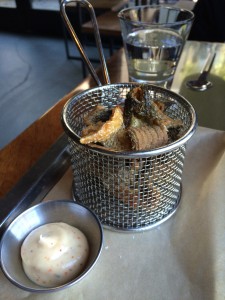 Typically anything fried is by default tasty, but execution is important, else the result could run too soggy, dried out/too crispy, or just a general grease bomb. The "chips" arrived hot and perfectly fried. I expected the skins to be salty, but was pleasantly surprised it was not.  Texture was light and airy, with a hint of smokiness. The miso aioli was tasty, but definitely played second fiddle to the chips.
Baby Eryngii Fries w/ miso aioli
When I read this item on the menu, I had no clue how to properly pronounce "Eryngii" and had to be corrected by our waiter (for the record, it is pronouced er-en-gee, and rhymes with Ferengi).  Only when they hit the table did I realize Eryngii were what I called King Oyster Mushroom.  The fries were breaded in corn meal, and like the chips, arrived piping hot. The choice of mushroom was well thought out as it has a "meatier" texture than other mushrooms and provided a satisfying mouth feel.  I recommend a light dusting of lemon, which adds a nice bit of acidity to contrast the batter.  The same miso aioli came with the fries, but again, not really needed.
"Fish Sampler"
Kampachi (Amberjack) Sashimi, Watermelon, Shio-Ponzu, Kaffir Lime Oil, Cured Bergamot
Salmon Pastrami – Cured Salmon, Cresson, Wasabi Mascarpone, Kuki Wasabi
Pickled Toro Awashi – Uzura Yolk, Cucumber, Seaweed, Su-Miso Vinaigrette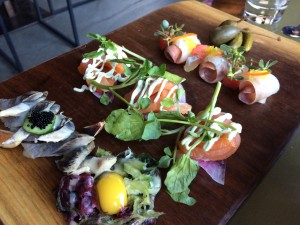 We decided to get the Fish Sampler, which allows you to choose 3 out of the 4 fish/sashimi dishes on the menu.  Despite having a bunch of different elements, each of the 3 preparations work well together. The lime and orange flavors melded well with the kampachi, giving a bright contrast to the rich fish. Judging by the menu description, I expected the salmon pastrami have more of a cured taste and texture, similar to smoked salmon, but it was much closer to straight sashimi. The wasabi cream was not overpowering, and the stray pieces of dill rounded out the flavor profile nicely. The pickled sardines were nicely done, but did not stand out relative to the other two. The accompanying salad was more unique, with the quail egg providing a nice sauce/dressing.
Squid Ink Spaghettina with Garlic Tomato Compote, Red Curry, Lemongrass Dashi Broth, Seaweed Butter, Enoki Mushroom, Brussel Sprouts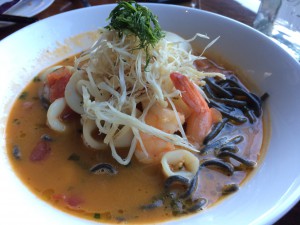 Reading the description, I expected this dish to have a very punchy, in your face, "fireball" type of flavor profile with each of the elements competing for your taste buds' attention. What came out was what I would call more restrained, but in no way less complex or "boring".  The delicate dashi broth provided a nice base tone to a nice synchronicity of delicate and balanced flavors. And the broth is by far the star of this dish. Good thing it comes with plenty of it. The squid ink pasta provides substance and chewy texture. The squid was cooked properly, which is al dente, and not tough as rubber or "soft and slimy".  Definitely the highlight of the evening and something I would order again.
Summary
Skool provides a nice take on Asian fusion that is whimsical and restrained, respecting the flavors and the seafood itself. It slots well in between the "special occasion" and the "let's just go out to grab something" meals and should go on one's list of "restaurants on rotation". As with many restaurants in San Francisco I review, I wish they were located closer, which would motivate me to visit more often. If I lived in or closer to SF, I would definitely go more often.
Rating: Raise a majority of the time, call if there are too many other players in the pot or if you are short stacked.