Have heard a lot about Koeran style fried chicken, with a few places popping up in the South Bay. The buzz has been the best one is Bonchon Chicken, which started in LA and has expanded here.  We decided to check out the Sunnyvale location
You can either do dine in or take out. The dine in area was not big, consisting of about 8 tables and a bar/counter  that could serve 30-35 people.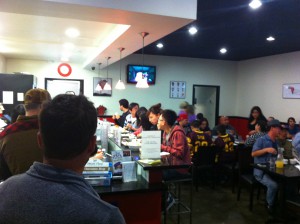 The place was packed on a Saturday night and there was what appeared to be a reasonable waiting list for most restaurants. What we did not realize was the wait would be a while. There were time when a couple of tables opened up, but there was a lag between when diners left and when the table was bussed and ready for the next set of diners. It seemed there was no one person tasked with ensuring the tables were turned in a proper manner (like a hostess or maitre d' role) . I sensed the same thoughts in the other people waiting for a table. This is not to knock the servers, who were being very attentive to diners already seated, but rather a procedural or operational defect that should be looked at. Theresa said this would be a good project for an operations management class.
After a lengthy wait, we were finally seated and we quickly ordered a "large" combo of wings and drum sticks, with the two different flavors, which were soy garlic and hot garlic fried chicken with a side of the kimchee cole slaw and white rice. as an appetizer, we ordered the zucchini fries.
Unlike the wait for a table, the food arrived fairly quickly, with zucchini fries arriving less than 5 minutes after we ordered, with the rest of the food coming shortly after that.  The zucchini fries tasted exactly like fried mozzarella sticks, except with zucchini in the center.  It came with 2 dipping sauces, which were sriracha flavored and ranch, I think. nothing outstanding about it, but would go great with a pitcher or beer.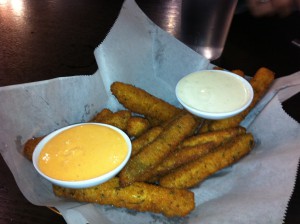 The fried chicken is unlike traditional American style fried chicken, which tends to be overly breaded or if flavored, drenched in sauce. The sauce seemed to be incorporated into the dry outer crust of the chicken.  The hot flavor was not very hot. In fact there I could not detect much difference in heat level between the two flavors.  The chicken was also not greasy on the outside, again, unlike typical American style fried chicken, which means you don't needs stacks of napkins to keep your fingers clean.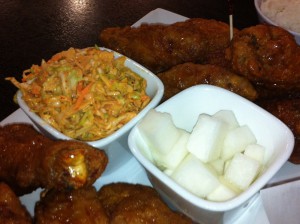 The kimchee cole slaw was average, with nothing especially memorable, tasting like regular cole slaw with the addition of some kimchee marinade.  We like the pickled daikon more than the cole slaw, as it provide some nice acid and a tiny bit of sweetness to balance out all the fried food.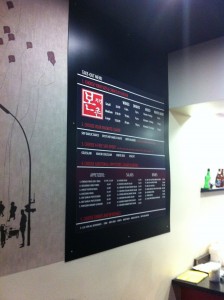 Prices are really reasonable given the amount of food you get, which explains its popularity. I would suggest doing takeout rather than dine in, which can take a while on busy nights.