Zola in Palo Alto serves seasonal French cooking, which falls somewhere between bistro and super high end fine dining. The restaurant space is fairly small, seating around 50 people, with most tables being 2 or 4 toppers, with 2 larger tables able to accommodate 8 diners. Zola also only servers dinner Tuesdays through Saturdays.  Reservations are available via OpenTable, but getting a seating around your "traditional" dinner time of 7:00-7:30 can be tough on Fridays and Saturdays. Fortunately, they do have later seatings after 9:00, which was when we went this past Saturday night.
We had arrived a bit early, but were seated immediately and asked for our drink orders.  Our plan was to share a couple of appetizers and order two entrees.  The gnocchi was mentioned several time on Yelp, so we order that. And I can not resist roasted bone marrow, so that was our second appetizer course.  We opted for the short rib "Boeuf Bourguignon" and the Flounder in Beurre Blanc as entrees.
Ricotta Gnocchi
slow egg, mushrooms, brown butter, green onions
I was initially very skeptical about ordering  gnocchi, as most versions tend to be heavy, gummy wads of dough smothered in a thick sauce which then forms rocks in your gut after consuming. I was doubly concerned because it would be one of our starters, leading us to feel full before our entrees hit the table.   This dish came with a slow cooked egg, a food trend which more often than not,  works well on paper, but leaves something to be desired when actually plated.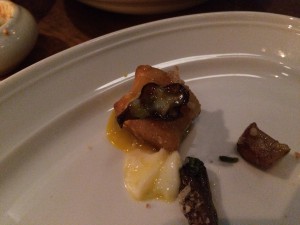 I was pleasantly surprised. The gnocchi was nicely seared on the outside, creating a "skin" encapsulating the soft fluffy interior. The brown butter and mushrooms paired nicely to create a nice umami flavor and mixing in the slow cooked egg (which I am assuming was sour vide-d) created a nice sauce.  All the components worked well together to deliver a solid dish.  Tip: although not on the menu, you can ask for an a entree sized portion as your meal. In fact, our server said it is a pretty common request.  I would exercise this option next time I go. This dish was the clear favorite of the night.
Roasted Bone Marrow
toast, horseradish, black garlic, herb salad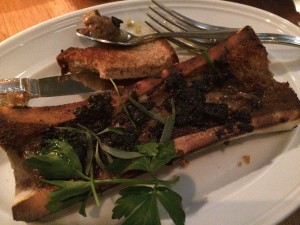 Zola delivers on this classic dish, but adds a touch horseradish and has a bit of vinegary tartness and acidity. While most people spread the marrow on toast, my personal preference is to just scoop it out and eat it straight. I'n not exactly sure where the herbs of the "herb salad" was on the plate beyond the sprig of parsley. Perhaps it was charred on top when finishing the marrow in the oven and that was the intent (and would explain the acidity in the dish). This is more a criticism of the description, rather than the dish itself, which delivered on taste and execution. I still prefer Bouchon's version, although it is  better than The Beast and the Hare's version.
Flounder "Beurre Blanc"
fingerlings, artichokes, Sicilian capers, fines herbs
The flounder filet was perfectly cooked, tender. The capers were not overpowering or overly acidic, and gave a nice counterpoint to the fish. The fresh vegetables provide a nice textural contrast to the softer fish. Mixing slices of potatoes and diced veggies in with the sauce does  eliminate the need to prepare separate sides, making the overall presentation cleaner while providing all the components of a complete meal (protein, vegetable, and carbs).
Short Rib "Bourguignon"
traditional vegetable mirepoix, parsley bread crumbs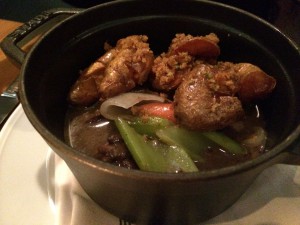 For folks expecting a traditional bourguignon stew, Zola's take is much lighter than traditional preparation, relying less on the wine to provide flavoring, letting the natural richness of short rib shine more. The short rib is served in a small cast iron Dutch oven, topped with crisped bread crumbs and fried fingerling potatoes to provide some textual contrast, along with carrots, celery, and onion (the aforementioned mirepoix) cooked to an al dente consistency.  Solid execution and a good choice for short rib lovers.
Summary:
Service overall was good, although some may call it "slow", but I would characterize more as typical French, appropriately attentive and non intrusive, allowing diners  to enjoy the dishes and each other's company without wait staff constantly asking you how things are. If we needed anything, we just had to flag down one of the wait staff, who were prompt in responding to our requests.   Pricing is what you might expect from a restaurant in Palo Alto, with entrees ranging from the high $20s to the mid $30s, with appetizers around half that price. The wine list contains a good selection from reds to whites, Californian to French.   Portions for a French restaurant are generous and should satisfy all but the largest of eaters. A shared appetizer and 2 entrees would have been more than enough for us, but we wanted to try the gnocchi and the marrow this go around. Given the small size of the restaurant, this is not ideal for larger groups. The ideal party size would probably be 4, which would give you more of an opportunity to sample a variety of appetizers (and main entrees, if your dining companions are so pre-disposed).  A good choice for French food fans and great for date night, double date night, or small celebratory dinner.
Rating:
Solid call, Easy call for a upscale date night or small celebration meal.