Din Tai Fung Finally comes to Northern California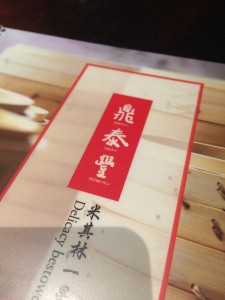 All the Asian Foodies have come out for this one. Ding Tai Fung (DTF) has finally opened an outpost in the Northern California. Opening day was met by long lines and lots of waiting. So much so that the Silicon Valley outpost was the first DTF to institute a reservation system. Weekends are pretty tough to get, and our reservation was for a Tuesday  evening.
The restaurant itself is a bit space constrained (basically the same footprint as  a medium size store in a large shopping mall)  and can accommodate perhaps a little over 100 diners inclusive of bar seating.  DTF does do a good job of spacing out the tables and booths so you are not on top of each other (in contrast to the orginal DTF in Taipei before the remodel, where diners were basically sitting elbow to elbow)  Their kitchen is also not as large as some of their other outposts, which goes back to the space constraints (or perhaps smart planning based on the anticipated space they were given.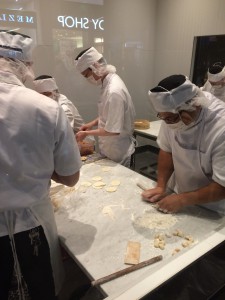 The Food
DTF is known far and wide for their Xiao Long Bao (XLB), or dumplings encasing filling and soup. DTF has the traditional pork XLB, but also a wide variety of other fillings, including sweet ones. Since I have eaten at DTFs in Asia, I am going to compare the taste and experience. By default I was not expecting the dumplings to taste exactly the same because they can not use the same pork as in Asia.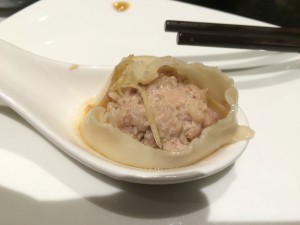 So the comparisons should not be construed as criticisms, as the food was still good, but rather minor differences between US and Taiwan versions.
The dough was a bit stickier and chewier than Asia, but that could be because this location is working out quality issues. I appreciate how thin DTF makes it XLB, as some other restaurants's XLBs are basically all skin with very little filling.  Also love that the fresh cut ginger that is given to each diner.  The default at other places is one dipping dish with ginger for the entire table. This allows each diner to determine the dipping sauce that suits him or her.
DTF is also know for dishes besides XLB. Their noodle soups and shu mai are good too.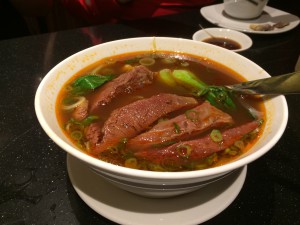 Service
Service was prompt and friendly. Appreciated the pacing of the dishes, as not everything hit the table at once, but some may prefer the "overwhelm you with food at once" model. I suspect that will become more prevalent  as they get the kinks out and settle into a rhythm after the initial foodie flood.