On a recent trip to Hong Kong, Theresa's research turned up a must go to buffet called The Grand Buffet(TGB), which is run by the same folks that run the buffet at the Grand Lisboa in Macau. TGB is located in Hopewell Center in Wan Chai and occupies the top floor with sweeping views of the HK skyline… and it rotates! So your view changes every few minutes. There is a single seating for lunch and two seatings for dinner.
Making a reservation: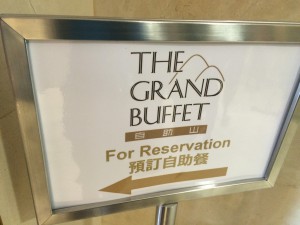 TGB is newly open and technically still in the soft opening phase when we were there in early March with an official opening in the April time frame. The restaurant was not answering email inquiries on their website, so we were not able to confirm a reservation online, so the plan was to check when we go to HK. We decided to drop by on our first night on the off chance that we could secure a spot. We spoke with the receptionist and she found a spot for us for lunch.  We came to learn that the restaurant get tens of thousands of emails a day requesting info and/or reservations and hundreds of phone calls a day, so the best way to secure a spot is walking in and checking with the desk person.  In case you are wondering, it's sold out for the April and May. They were accepting reservations as far out as June and July and we had not even gotten past mid March yet.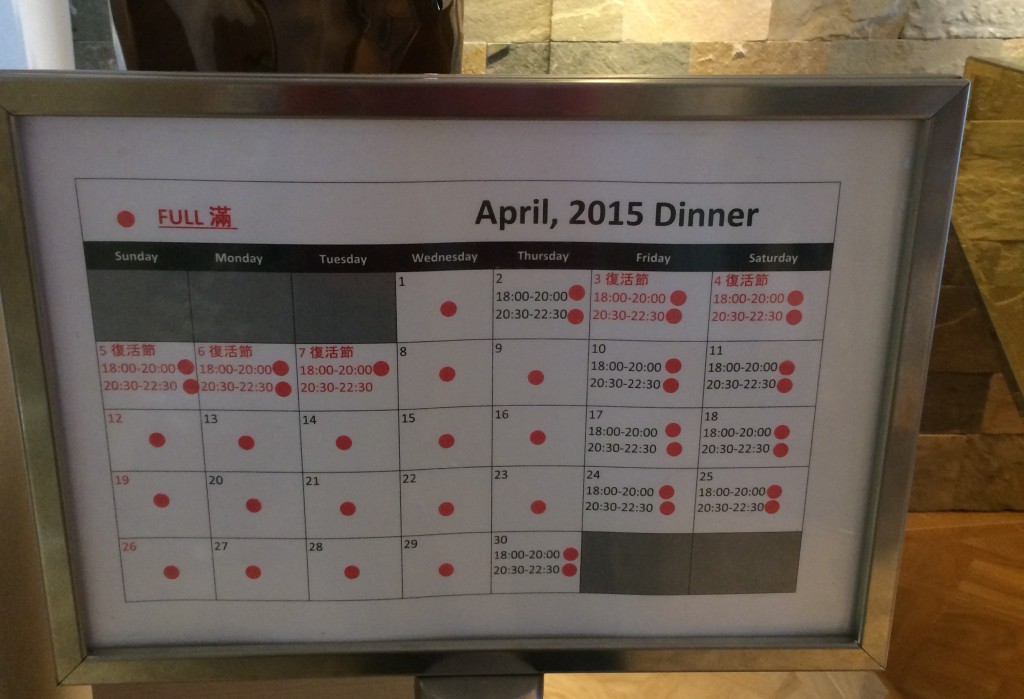 We secured a 12 noon reservation, but were advised to get there at 11:30 when it opened.
The Food: 
As with any buffet, TGB has various areas/stations with a variety of food: cold seafood bar; Cantonese with Dim Sum and bbq meats;  Japanese with yakitori, noodles, and tempura; warm food station with select Chinese, Indian, and Western dishes; salad with cold meats and cheeses; sushi/sashimi; and dessert.
Sign reads "Only serve for dinner"
Dinner includes a station where they take live shrimp from a tank  and cook it for you on demand, and abalone dishes. We went there for lunch, so we were out of luck, but the trade off was lunch was cheaper.
The outer ring of the restaurant where the seating lies rotates every so slowly while the interior remains stationary, similar to a merry go round, except much slower. This means you could lose your way when visiting the stations on the interior area of the restaurant. Fortunately, there are stations located in the rotating part, so make a note of your location relative to those stations before you leave your seat, or leave a marker of some sort (jacket on the chair, shopping bag of some sort, or other piece of clothing).  Else you might not remember your table after getting your first round of food.  We were seated next to the dessert station (woo hoo).
One way TGB likes to differentiate itself is the freshness of the food, often firing things a la minute when possible/practical rather than batch cooking and then putting food into steam trays or on ice. This means their sashimi is hand cut by staff to order. Diners could choose from 4 selections. The day we went it was tuna, salmon, surf clam (hokkigai), and hamachi.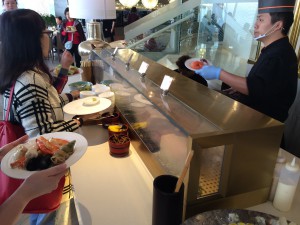 The Japanese station featured fresh grilled fish, tempura, and a noodle station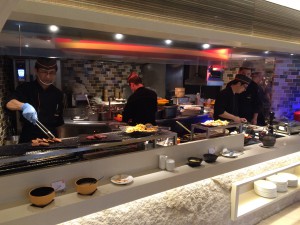 The Cantonese station featured dim sum and sliced to order BBQ/roasted meats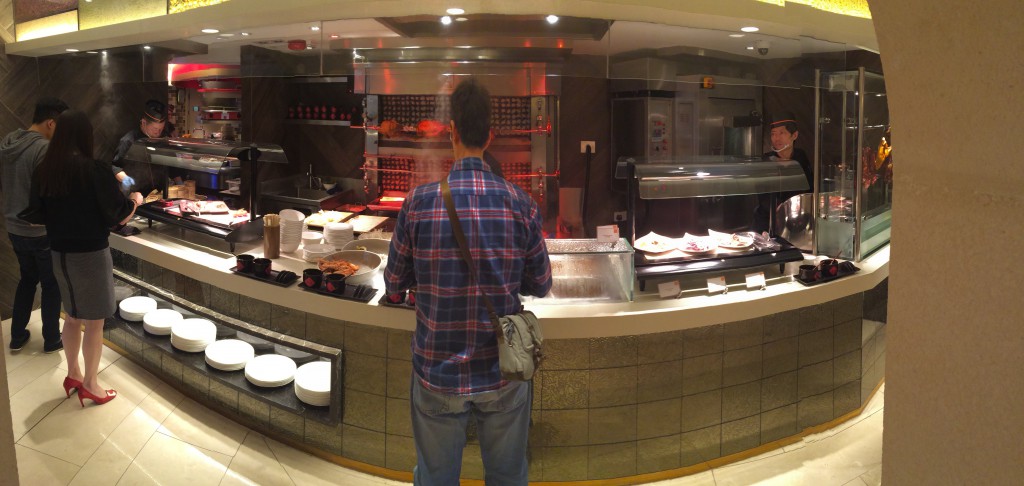 There is cold seafood on ice
Salad, cold cuts and cold appetizers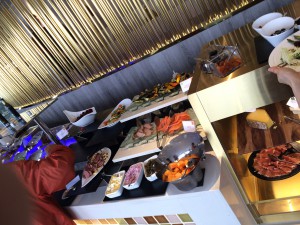 Hot cooked items
And of course, the best station – DESSERT.
With a chocolate fountain!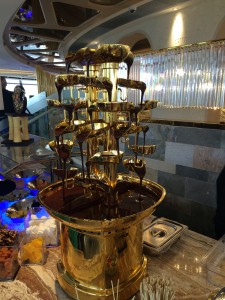 We each had at least 5 macroons in addition to sampling all the other desserts.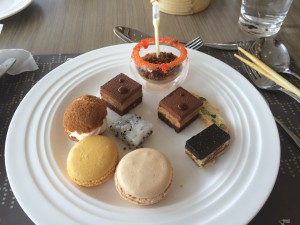 The quality of the food was excellent with a freshness not found in your typical mega buffet, matching and perhaps even surpassing the quality of the Bacchanel Buffet at Caesar's Palace Las Vegas.  Food was properly seasoned without being overly salty (in fact I drank very little water during the meal). Some of the surprise hits for me were the Indian curries, the beetroot soup, and the cold crab cake. Refined and very tasty.
For the quality of food, lunch pricing was a very reasonable at around $35 USD per person (on par or even cheaper than some Vegas buffets), with dinner being more than double that because of the availability of more seafood and steak.  I would suggest skipping dinner if you are not interested in live shrimp and abalone and saving the cash for some shopping in Causeway Bay or Kowloon.  And you really can not beat the view of HK while dining, and lunch is ideal for daytime viewing. Since there is only one seating for lunch, we lingered from around noon until 2:30 when it closed and enjoyed the view of Victoria Harbor and the HK skyline.

Rating: 
Shove all-in for lunch. Raise for dinner, but evaluate based on your vacation bankroll. Just make sure you secure a reservation by walking in. Oh, and skip breakfast so you will have more room.