The great thing about the Bay Area is that you constantly discover new things at places you have been to. We took advantage of the warmer, and more importantly clear weather to visit "the city".
Legion of Honor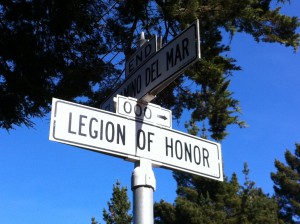 What a difference clear weather makes. Last time I came here is was semi-foggy and the main goal was to visit the museum. Had a chance to walk around the surrounding grounds.  There was a powerful memorial to the Holocaust victims.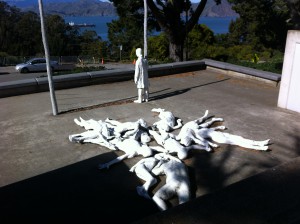 The main parking area in front of the LOH is large circular shaped parking lot with a sculpture in the center. I noticed a contrail left by some airplane or another, which provided for a nice juxtaposition photo opportunity
A stone sculpture commemorating the establishment of diplomatic ties between the US and Japan, a gift from SF's sister city of Osaka.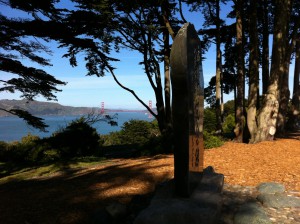 Lands End
It had been a while since I've been to the Sutro Heights and Cliff House area of San Francisco, and decided to check it out after visiting the Legion of Honor.  The US Park Service really spruced up the Lands End area (which I learned on this trip was the name of that area). The Lookout area off Point Lobos Blvd near the Cliff House has a new visitors center, parking lot, and maintained trails that run along the coast to the Presidio. .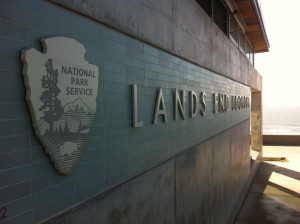 View of the Sutro Bath ruins and the Pacific from the lookout.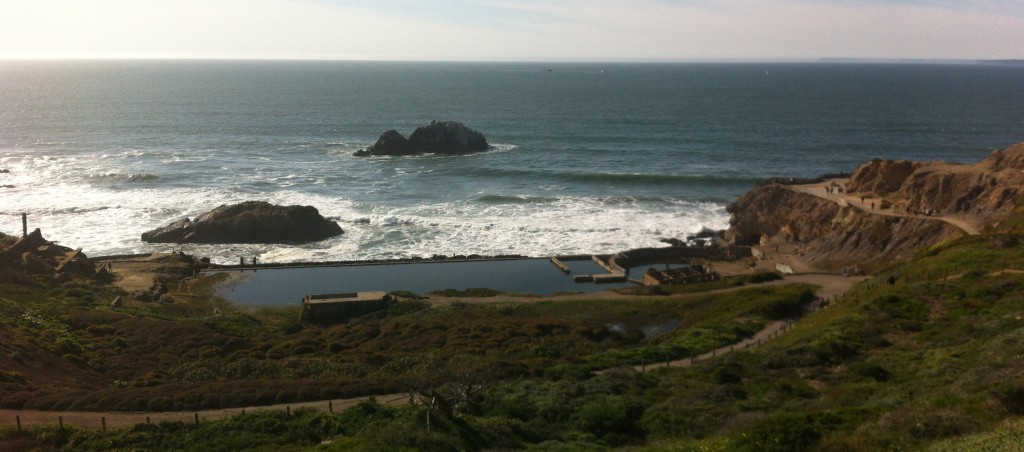 On a clear day, the views of the Marin coast, Pacific, and the Golden Gate Bridge are spectacular.The panoramic below was stitched together with several photos taken from the USS San Francisco memorial, which is perched above the trail that leads to the Presidio and was the former route of a railroad/trolley Sutro built to ferry passengers from SF to the beach areas on the west side of the city.

Pic of USS San Francisco Memorial taken through a hole in the hull that was transported and place at its current location
My only regret is not having my SLR with me so I could take higher quality pictures, as clear days like this on my days off don't happen that often.  I am also finding that the iPhone4's camera to be ok for casual pics, but still can not replace even a point and shoot camera,to say nothing of an SLR's capability.  Differences are noticeable with Theresa's iPhone 4S camera, so the 5's camera must be even better.