After a morning of light hiking, on a recommendation from Theresa's co-worker, we decided to try out Alotta's Deli in Los Altos.  What makes Alotta's unique and what a lot of folks rave about is their fresh baked sourdough bread. Bread is always 1/2 of the equation in a successful sandwich, so we had good expectations going in.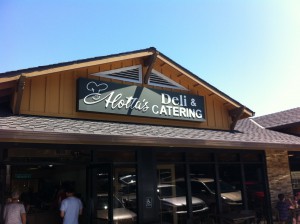 We had a somewhat difficult time locating the right section of Grant Road that Alotta's was on.  We thought it would be near the corner of Foothill Expressway and Grant, but it's actually located on a section of Grant that runs parallel to Foothill Expressway. After a couple spins around the block, we finally got pointed in the right direction.
We were there around 1pm and traffic was brisk, with a few folks waiting for their orders.  The signature ingredient of an Alotta's sandwich is their homemade sourdough bread, which they bake fresh on a continuous basis. Workers brought out 3 pans of bread for cooling in the time span between when we ordered and when we got our food. The loaves were pre-scored into 3 segments so workers could easily slice off the correct portion each time.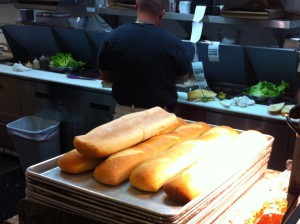 You place your order at one station in the back and then wait for your order. You can pick various canned drinks from the cooler  and chips from the rack and then pay for it all at the other station when your sandwiches are ready.  Other side dish selections include  a "salad bar" of around a dozen different salads (e.g. potato, fruit, cole slaw, pasta, etc, sold by the pound) and a hot bar with daily specials.  The day we went there was macaroni with 4 cheeses and spaghetti.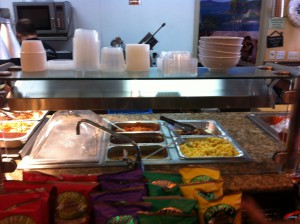 We ordered the chicken salad sandwich and the hot pastrami.  All sandwiches come with lettuce, tomatoes, mayonnaise  mustard, pickle, onion.  The hot sandwiches also come with provolone cheese.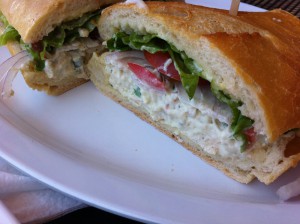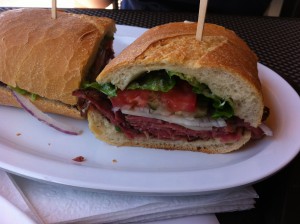 The bread was definitely the star of the show.  Wide and with the right amount of crispiness with a chewy, sour interior that stood up well to the filling. It might be a little dense for some, but definitely not as dense as some German breads out there.  The quality of the fillings was much better than your run of the mill Subway or Togo's, but perhaps not as generous in quantity, so don't expect filling to ooze out the sides as you make your way through. Portion-wise, a single sandwich will satisfy most appetites because of the bread density as well as the length of the sandwich. All in all a well balanced sandwich made with quality ingredients.
If you are a bread fan/connoisseur, it might be worth checking out. As far as sandwiches go, it would rank in the middle of the pack for me. Alotta's is a nice place and  probably draws many lunch regulars from the surrounding neighborhood. Would we return to Alotta's? Perhaps if we happen to be in the area, but I would choose to make a special trip out to Little Lucca before Alotta's.
Hours are 10am – 6pm and they are closed on Sundays
Side note: Yes, I did make a lot of jokes about the character in Austin Powers that shared her name with this place when Theresa mentioned it to me.