Tucked in a strip mall close to where Theresa works is BiBimBowl, which offers Korean rice bowls and tofu soup.  I
Diners can build their own bowls by choose the type of bowl (regular, stone, sizzling platter), rice (white/brown), protein, and sauce/spice level.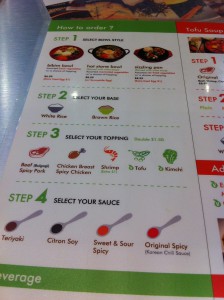 I have always like Dol Sot Bi Bim Bap because the stone bowl it comes in crisps up the rice and adds texture to the meal and BiBimBowl delivers a decent one.  Reasonable pricing and fairly fast service makes this a popular place for lunch, with the restaurant filling up fairly quickly by noon, so expect a wait if you get here a little after noon.  There was also a fair amount of to-go business as well, so if you don't feel like waiting for a table, that is always an option. If a Korean food craving strikes you while in Mountain View, give BiBimBowl a try. If it matches my experience, you should not be disappointed.