Izzo Restaurant is a Taiwanese cafe in the North Valley area of San Jose. The restaurant is part of an Asian dominated strip mall located and somewhat overshadowed by the the larger Asian plaza anchored by 99 Ranch that is located kitty corner from it.  The plus is that it does not get really busy, so getting a table on a weekend isn't that much of an issue.  The setup is casual table service dining, with 3 or 4 wait staff circulate among 20 or so tables. They are also open late (til midnight), and I suspect late diners would gravitate to Izzo over time.
The Food: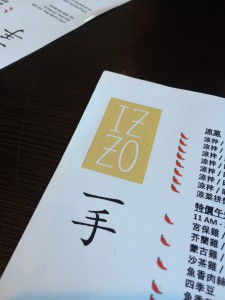 Traditional Taiwanese cafe food such as noodle soups, rice plates, and appetizers (e.g. popcorn chicken) populate the menu. Izzo's differentiation is that they hand make their own noodles and also have a couple of "fusion" dishes on their menu. Some of the most mentioned dishes on Yelp were the wings with house sauce and the pork belly quesadilla.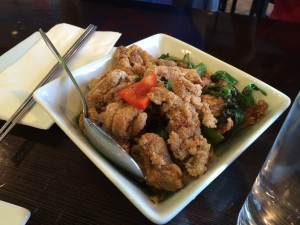 Izzo has Taiwanese cafe staples like popcorn chicken. We got the appetizer, but they also offer it in a rice plate with soy sauce egg, veggies, and rice.  Good execution on this one.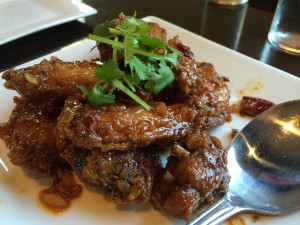 The Wings in House Sauce were deep fried in a simple breading and tossed  in an appropriate amount of sauce (that is not sopping wet or bone dry). Nice Asian flavors, good for sharing, and a good accompaniment to your main dish. While supposedly spicy, I did not detect much heat, but those that are super sensitive might detect a hint.   A must order for wing fans.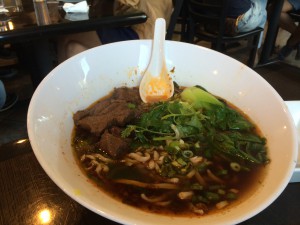 Noodle soups are pretty healthy sized portions, coming in large white bowls. The hand made noodles are definitely a strong suite here, with just enough bite and good chewiness and mouth feel.  Because of the flour base, you should not let the noodles sit in the soup for too long, as it will start to absorb the liquid and start to become water logged. The beef noodle soup stays true to the flavors of the ones I have tasted in Taiwan, with a small bit of spice/heat and an appropriate beef to noodle ratio. Beef has been braised and tender.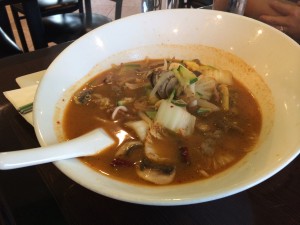 The seafood noodle soup is similarly good, sporting a  wide variety of seafood in a slightly spicy broth, a bit of tang, and the aforementioned house made noodles.
The one miss for us would be the Korean Spicy Sauce Noodle (Jajangmyeon) or Zhajiangmian in Chinese. A couple of Yelp reviews mentioned it, but it really disappointed.  The sauce was unremarkable, and not much seafood or meat in it. Just eating the noodles with some sriracha sauce would be an improvement. I would not order this again.
All the Yelp reviewer mentioned the pork belly quesadilla, so it was a must order for us.  Instead of using flour tortilla as a wrapper, Izzo's quesadilla uses a large dinner plate sized green onion pancake to encase chunks of braised pork belly intermixed with gooey white cheese.  The wrapper was appropriately flaky and not overly greasy like some other places' onion pancakes, with a nice sear.  The pork belly worked well with the well melted and oh so gooey cheese, although I am not sure of the exact blend used. I am thinking queso blanco, but I am not sure.  While I don't expect this dish to convert the large population of "Chinese stomach" diners to Mexican food, Izzo's version will probably have wide appeal, unless you happen to not like or can not eat cheese.  Onion pancake fans and pork belly fans will not be disappointed.  Incidentally, popcorn chicken can be substituted for pork belly.  While it sounds intriguing and something that we might try in the future, I think sticking with the pork belly would be the better choice
Verdict: 
Izzo delivers on the Taiwanese cafe fare and then some, having just enough unique dishes to make it worth a short trip out to the North Valley to try. Beef noodle soup and quesadilla are a must order. Late hours, affordability (most entrees are under $10) and not having to wait too long for a table during peak hours add to its appeal.  Izzo is a nice neighborhood joint that you would put on a short list of places for times you want something better than fast food but not as "fancy" as a sit down Chinese restaurant.
Rating: Call 
Explanation of Ratings here