Michellin Stars tend to bring out the foodies and State Bird Provisions (SBP) is no exception. SBP has a somewhat "secret club" feel, with a very nondescript storefront with no marquee or identifying markings. The only indications of the restaurant (and its popularity) was the line that formed outside the door and the cooks furiously preparing food behind a couple of large pane glass windows.
SBP's mascot was another indication we were in the right place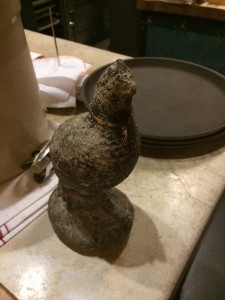 Reservations can be made via their website, but are hard to come by because the restaurant saves over half the restaurant for walk-ins.  Without a reservation, you have to wait in line for a spot during their three nightly seatings: 5:30, 7:30, and 9:30. The restaurant opens at 5:30, and the line often starts at 4:30 or earlier. The restaurant is small, seating perhaps 50 or so between the tables and the counter seats.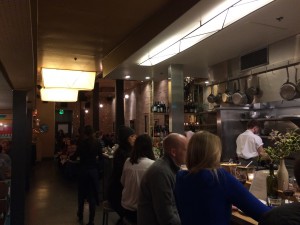 SBP's concept parallels Chinese dim sum, with wait staff circulating around with trays filled with small plates, with prices displayed on wooden sign. Menu items rotate, with the website saying "our menu changes very frequently, here is a list of dishes you may see this week" For example, the night we went, a Korean Scoth egg was offered, but not found on the menu.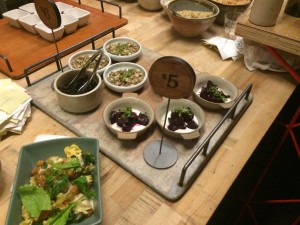 Small plates are fired on a continuous basis from the open kitchen in the front.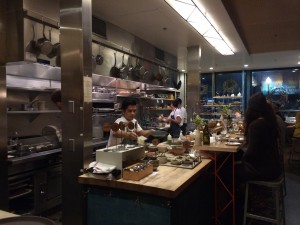 There is also a seafood cart  with the day's offering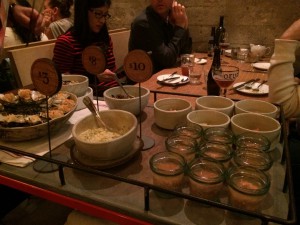 The menu has a dozen or so entrees and "toast" dishes, which you can order via your main server.   The bottom of your menu also doubles as a tally sheet for all the small plates you order from the circulating trays.
We had read up on SBP on Yelp and solicited input from friends that have gone already. Small plates are run from the kitchen area as they are finished, but not all at once, so it pays to pace yourself, resisting the temptation to try everything that comes your way. The number of small plates varies from night to night, but they number around a dozen, including the plates from the "seafood cart". Each of the tray runners describes their featured dish in detail… lots of detail, rattling off a fairly comprehensive ingredient list coupled with cooking and presentation method. It's a lot to take in, but makes the experience that much more enjoyable, as you really see the passion the servers have for the food. We come to find out later that the tray runners are also the people responsible for assembling the dish, which explains why they know so much about it.  If you see a small dish you really want but it runs out before the runner gets to you, you can always put in a request to your server, and they will pick one up for you when the next round is ready.  Entrees must be ordered off the menu, and we decided to order two of them.
"Entrees"
CA state bird with provisions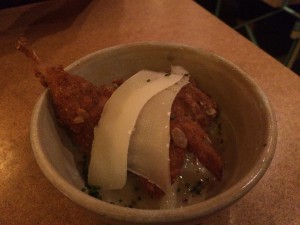 This is SBP's namesake dish, consisting of a fried deboned quail on top of a light, clear sauce and topped with some pecarino (?) cheese.  The quail was nicely brined and juicy with a crisp skin without being overgreasy.  The sauce has a nice touch of acid and sweetened by the onions, which balanced the richness of the fried quail nicely.  The cheese added a nice bit of saltiness, and while it did not add much to an already good dish, it did not distract from it either.  Would order this again on my next visit.
 maitake & duck 'fried rice' a la plancha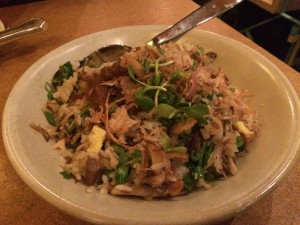 While not as large as the portions you get at a Chinese restaurant, SBP's fried rice can be best described as sauteed duck shreds with green onion, caramelized onion, egg ribbons, and oh yeah some rice. In other words light on the rice.  While not the best dish we had that night, it would be worth ordering again, and I can see this appealing to a wide range of people, even those that may not particularly care for duck.
Small Dishes
Crudité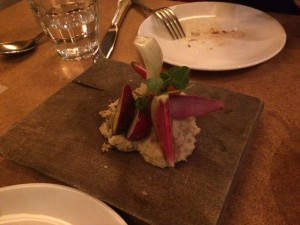 This was basic chopped root veggies with a bean dip. While good and well executed, nothing special or noteworthy.
shrimp & potato 'okonomiyaki'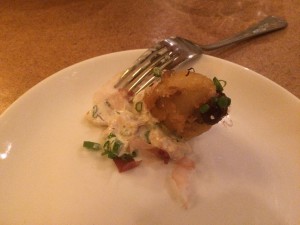 This potato croquette sat on top of an aioli based shirmp salad. Flavors were subtle, and the croquette was well executed. Good starter, but will probably skip this next time around in favor of trying something new.
Dumpling with confited duck in aromatic broth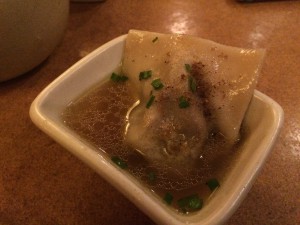 This was by far the winning dish of the evening.  So much so that we ordered another round at the end of our meal. The filling in the dumpling was confit-ed duck, giving a nice rich and punchy taste to the dumpling, which was browned on the griddle and lightly dashed with five spice powder. The aromatic broth was infused with onion, ginger, and other Asian spices, negating the need for a dipping sauce.  I would be happy with 4 or 5 or these dumplings with a nice large bowl of the broth as my meal. Yes, it was that good.
hog island sweetwater oyster, spicy kohlrabi kraut & sesame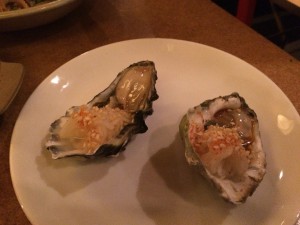 We ordered this off the seafood cart.  Taste on this was light and delicate, highlighting the naturally sweet and briny oyster. The spicy kraut added a subtle bit of heat at the end. A nice play on your traditional Tabasco and migonette treatment. Oyster fans should like this.
duck liver mousse with almond biscuit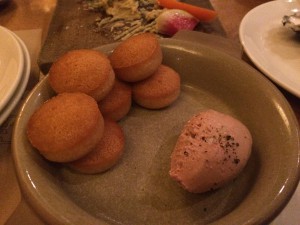 I will be the first to admit I do not like liver. The taste of calf liver, goose liver, duck liver all have a earthy, dirty, muddled flavor that I never acquired a taste for.  So why did we order the liver mousse? The reviewers on Yelp mentioned it was worth trying, and this was the one dish we had to request from our server because it had run out a few minutes before.  The mousse was light and fluffy, as one might expect, with enough liver flavor to make you realize what you were eating. What made the dish was pairing it with an "almond biscuit" which I would describe more like a cross between a pound cake and a corn muffin rather than your traditional southern buttermilk biscuit or what the English would describe as a biscuit (aka cracker in America).  Pairing the slightly sweet and "cake like" texture with the mousse made it very palatable, even for someone like me that usually runs far whenever liver is served.  The biscuit by itself was delicious and could easily be paired with ice cream or crème anglaise as a dessert. Liver fans should be quite pleased as well.
matsutake with pickled kombu juice
If you are looking for strong, bold flavors, this is not your dish, but I found it to be clean and subtle, highlighting the delicate nature of the mushrooms. The kombu flavor was very subtle, but that could also be that we tasted this dish in the middle of our meal, and our palates might have been muddled with other flavors. This would be a good dish to start, again if you are a fan of subtle flavors. Else, cleanse your palate with a nice dry white wine or a dish with a bit of acid.
garlic bread with burrata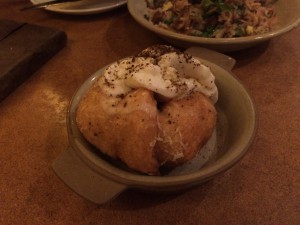 This dish was also mentioned a lot in Yelp reviews, and I would have to say I was a bit disappointed by it. The bread appeared to be fried and topped with some burratta. A bit messy to eat and a disappointment. I would not order this again.
Korean Scotch Egg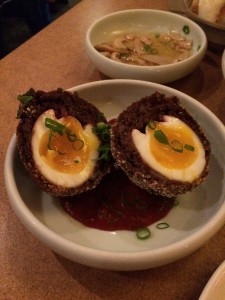 This was the second to last dish we ordered, and it caught our eye as the tray was leaving the kitchen.  The egg yolk was cooked to a soft stage, and the outside was crisp and surprising light. The Korean Gochujang sauce added a nice kick to the dish as well
Dessert: eggnog 'ice cream' sandwich, honey cocoa coulis, pecans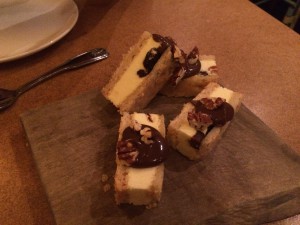 I was skeptical about "egg nog" ice cream, picturing a strong egg and alcohol flavor, but like other dishes at SBP, the flavor was subtle, with the cookie and pecan adding a nice textural contrast. The chocolate coulis sauce was not overly sweet either. Nice ending to the meal.
Summary:
SBP gives off a relaxed and restrained, but at the same time edgy and quirky feel with its food and service, similar to the vibe in Austin or Portland. The cooking style seems to be part contemporary American mixed with some Californian/Asian with a dab of lab experimentation thrown in there for good measure. Will definitely appeal to foodies and the small plates allow you to try and share several things with your tablemates rather than commit to one large entree for each diner.  Given the size of the restaurant and the concept, I would say a party of four would be the ideal number as you can strike a good balance between variety and quantity. Similar to tapas,  portion sizes are small, so if you are looking for quantity, this is not the place to really "fill up" on the cheap, as ordering many small dishes quickly increases the bill. Although it is tempting to order a lot just so you can try everything. Not all dishes will appeal to all diners, and I would say some dishes will miss the mark, but what I would say at the minimum, all the dishes at SBP will leave you a bit intrigued. The skills and creativity of the exec chef(s) truly shine through and with the rotating menu,  I would be eager to visit again to see what the scientists have cooked up in the lab.
Rating: Raise