Bacchanal Buffet at Caesar's Palace Las Vegas
The much touted Bacchanal Buffet at Caesar's Palace definitely lives up to the moniker of the best buffet in Vegas. What differentiates this one from the other buffets besides just sheet number of dishes is presentation of the food, imaginative combinations of flavors, and authenticity in preparation (i.e for ethnic foods, it's not "Americanized").
Tips:  The buffets gets crowded for dinner and weekends.  The majority of the food is the same between lunch and dinner, and lunch is cheaper.
Tip #2: Go into the buffet at around 10am. That way you can sample breakfast, and you will most likely still be there when lunch comes out around 11am.  More food to sample.
Tip #3 – Walk the entire buffet before grabbing a plate and piling on food. The Asian section is kind of tucked away in the back corner. So unless you happen to be seated near there, you might miss it.
In addition to the standard buffet fare Here are some of the more unusual dishes we tried:
Breakfast Foods:
We went with Tip #2 and did both breakfast and lunch.  I liked the presentation and slight twist the chefs did on some classic breakfast dishes.  For instance, the Croque Madame and Corn Beef and Hash both used sunny side up quail eggs in lieu of chicken eggs. Nicely portioned and presented well (for buffet food, at least).  Definitely different than the "scoop food out of chafing dishes" found at typical buffets.  The Chicken Fried Steak below is in a mini cast iron skillet/roasting pan and the waffle fries are in mini fry baskets. food was fresh and well prepared.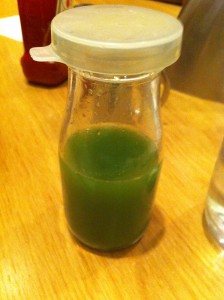 A regular complement of freshly squeezed juices (orrange, tropical fruit, watermelon) were available, but what caught my eye was the cucumber juice.  Juicing is the latest thing, and i guess Caesar's has caught onto it.  Tasted it, and it was definitely freshly juiced, but a bit bitter. Not sure if that is a normal thing or just because we are at the end of the cucumber season and the ones they used were more bitter than normal.
Seafood Bar:  
Oysters were freshly shucked and put on ice. In fact you can watch the shucker do his thing behind the raw bar. More reassuring than someone just taking a tray out from the back.  The other dishes on the plate on the left above are Salmon Poke Salad and cold Seafood Gazpacho.  The Poke was a bit too over spiced, as someone back there got too generous with the pepper powder.  Gazpacho was pretty good for buffet with chunks of seafood. Plate on the right includes Ceviche (not sure what fish, but was a firm white fish), Seafood Salad tossed with a light vinaigrette, "jumbo" boiled shrimp, and Mussels  Mariniere. Ceviche was clean with the right amount of acid/tang and correctly spiced.  Mussels were well cooked and not rubbery.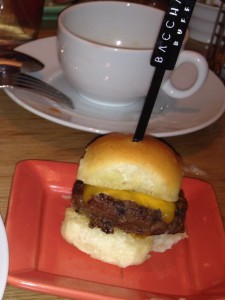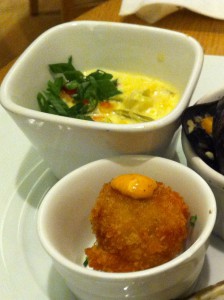 Kobe beef cheese burger slider with cheddar cheese.  Appropriately fatty and tender.  Definitely better than the typical ground beef burger.   Crab cake and corn chowder on the right. Great presentation, and while not bad, there were other better things to "spend your calories on"
 Desserts:
The dessert station here is amazing. Choco-holics rejoice, you will like this one.  Chocolate Creme Brulee, Chocolate Mousse with Crumbles, Tiramisu, Panna Cotta with Berry Sauce, and that thing on a stick is a Chocolate Decadence Lollipop (flourless chocolate cake piece with ganache pieces coated in chocolate with small chocolate spheres.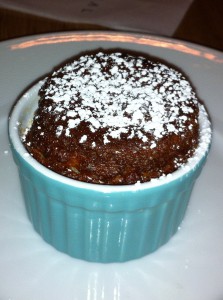 Chocolate souffle is also fresh baked. Its not put out, so you will have to ask for it. It's probably because the ramikan it comes it is VERY hot and they don't want to risk someone burning themselves.  And yes, I verified it is very hot when I lifted it to put the napkin in the picture above below the ramikan.
Tip: they keep a blowtorch at the dessert station, and if you ask, you can get the to "brulee" something for you on the spot. Just ask.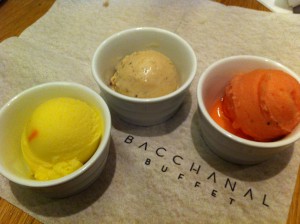 Over 12 varieties of gelato and sorbets that go beyond the normal "vanilla, chocolate, and strawberry"  Picture above are Mango Chile Lime Sorbet, Fig and Balsamic gelato, and Watermelon Mint Sorbet.   Flavors are very clean and definitely unique.  The sorbets were a bit icy, but that could be because they had been sitting out for a while and their freezer was on the fritz that day.
Conclusion:
Definitely worth a trip out, especially if you are a foodie who like to sample a little of everything rather than stuff yourself with the same dish over and over again.  The price is the highest on the Vegas Strip, but I would say it is justified. I have a feeling they change up things based on seasonal items, so it will remain fresh.  While the food will not wow you like ones from a 2 star Michellin restaurant, in aggregate it's pretty impressive how they can maintain the level of quality given the quantity and variety of food they have to crank out.