Bill of Restaurant is an unassuming restaurant tucked behind a Rotten Robbies gas station, in what can be described as a dated, Waffle House looking exterior. We have driven past it many times on Saratoga Ave and not given it much credit for being a good restaurant, expecting it to fold as we never saw patrons there for dinner. We finally decided to try it a couple months ago based on some online reviews, which explained that BOF was a breakfast place. We liked it and returned a a second time about a week ago.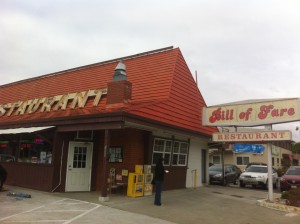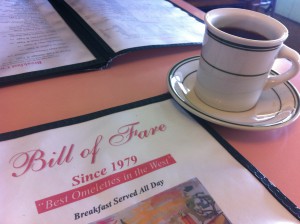 What BOF known for is breakfasts, which is really the only meal they serve, as they close up shop around 2:30pm. Run by a Cantonese family, it serves up typical American diner breakfast fare with some Asian touches.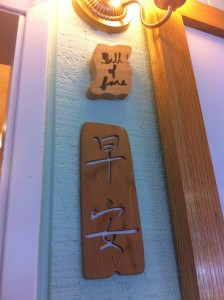 In addition to a full breadth of American style breakfasts -omelettes, waffles, pancakes, toast, eggs, OJ, etc, you can substitute a side of rice for your breakfast potatoes or hash browns. They also offer fried rice and Fujean style egg omelettes.  They even bring your soy sauce in addition to ketchup for your eggs.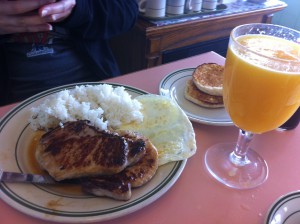 On our most recent trip, Theresa got the pork chops and eggs with a side of rice and I got the Linguica and eggs. Nothing highly gourmet about it, but for diner food, it's well done. Ingredients were a bit higher quality than your typical greasy spoon, so I would say definitely a cut above Denny's, IHOP, Waffle House, etc.  For instance, the OJ was freshly squeezed, not from a soda fountain machine and the coffee was not the 7-eleven variety, although for coffee snobs, it is a cut below your typical Starbuck's expresso drink. but hey, with free refills, what do you expect? Did not have a chance to try their omelettes on either trip, but they seemed to be a popular choice at the other tables. That will be on the next trip, along with the bacon fried rice.
Portions are typical American sizes, which is to say generous,  so come hungry and expect to spend some extra time on the treadmill to work off this breakfast.  Like the gritty looking exterior, this place is unapologetically a greasy spoon, albeit with some Asian touches. If you are in the mood for a hearty, good ole American diner style breakfast or brunch, I would recommend hitting this place, and putting it on your rotation of breakfast places. There is a reason they have been around since 1979, and from all signs, doing well ever since.