A couple of weeks ago, we went to Boiling Crab for a Saturday lunch.  This location is in a strip mall/retail center off Curtner Avenue in South San Jose. They have another location on Capitol Expressway.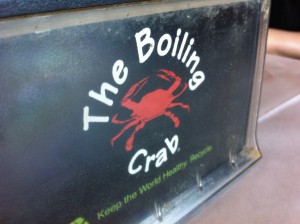 The restaurant opens at high noon, and this place is popular. Yup, that is a line you see below, stretching across 2 store fronts,  with about 10 minutes to go before opening. The line continued to grow as noon approached. If we had gotten there around or shortly after noon, we would probably would have had to wait for a table.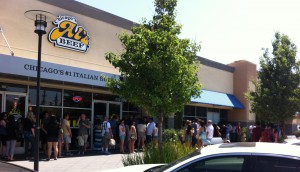 The format is the same as Red Crawfish: Order X pounds of seafood, with some sides and accompanying beverages.  The seafood is boiled/steamed, and then immersed into a sauce and delivered to you in a large plastic bag. One major difference is BC does not offer a prix fixe package that includes appetizers, side, seafood, and dessert. You have to order everything a la carte.
Boiling Crab has 4 spice levels and 3 types of sauces, with the 4th sauce, called "The Whole Sha-bang!", a combination of the 3 main sauces.   The mild spice level has a small kick to it and is probably good for most people, as the medium can be too numbingly hot to be enjoyable after a few bites. The highest level is probably only for the people who enjoy drinking a cup of hot sauce for breakfast or think a meal is not a meal unless your tongue is numb 2 hours after the fact.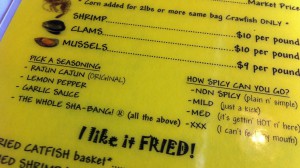 Crawfish is sourced from Louisiana and prices are "market based", so always ask when ordering. When deciding how many pounds of crawfish to order, keep in mind that a good portion of the crawfish's weight is the body, meaning the yield of meat compared to total weight ordered will be low.  If you are sharing everything at your table, I would recommend supplanting some of the crawfish with shrimp, which tends to have a higher meat to total weight ratio.  Another consideration: beer pairs well with spicy seafood, so remember to plan accordingly  For normal appetites, I would say 2 total pounds of seafood per person plus some sides and beer is enough. Larger eaters might want to bump that figure to 3 pounds per person. For every 3 pounds of seafood of the same type, you get a corn on the cob included for free in your plastic bag.  When in season, dungeness crab and blue crab can be cooked in the same style  as the crawfish and shrimp. Fried seafood plates/platters, including oysters when in season, are also part of the menu..
We opted for both crawfish and shrimp, with a side of "cajun" fries and a cup of gumbo. The dark roux based gumbo was well stocked with seafood and sausage, without being too thick or "slimy" like okra based gumbos. You have the option to add rice to your gumbo, but we decided to get it without so we could get more gumbo in the cup. It was a bit salty for a "standalone" soup.  A decent approximation of a Louisiana gumbo, but as mentioned before, could probably use less salt. Maybe next time we get a separate side of plain rice to eat with the gumbo and use the remainder  to mix in with the crawfish sauce (like I saw the couple at the table next to ours do).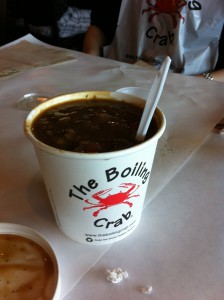 Cut lemons wedges and salt/pepper mix were delivered ahead of the seafood, which arrived shortly afterwards nice and steamy in the aforementioned plastic bags. This time around, I tried the Rajin Cajun sauce by itself, but found the cayenne pepper element to be a bit too heavy handed. I've had The Whole Sha-bang in the past, and would recommend that, as it provides a better overall balanced flavor.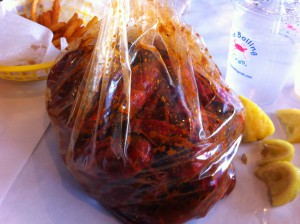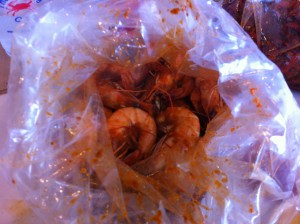 Peeling the crawfish and shrimp is a hands-on, predictably messy affair, so bibs are available for those of you not wanting to splatter spice laden liquid onto your nice clothes.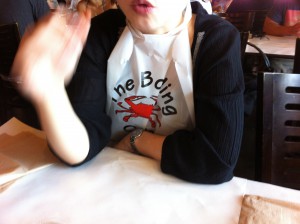 Because the seafood is boiled/steamed separately from the sauce, it can taste underseasoned to some. So BC provides salt and pepper in little plastic cups for every diner.  Another popular alternative is rubbing all that excess sauce that sticks to your hands onto your freshly peeled seafood.  If that is not enough,  you can coat the meat with the sauce sitting at the bottom of the bag.  Just make sure to let the sauce cool a bit, as the salt and cayenne pepper will make your singed fingers feel ten times worse.
Also, as per family style dining etiquette, you should not double dip your seafood into the common bag. If you are a double dipper or just like to drench your seafood in sauce, then I would advise dumping out the salt and pepper that comes in the little plastic cup and use that to scoop out your own personal portion of sauce. Or another option is just get your own bag of seafood.
And don't forget the fat and roe in the crawfish heads. Crack open those heads and scoop it out! Or if you are adventurous enough and don't care (or need) to see what goes into your mouth, you can just suck it out of the head right after detaching the tail.
If you've done it right, the meal should end with a nice large pile of shells and dirty napkins in front of you. Now is the time to  use those leftover lemon wedges to clean off those saucy, smelly fingers and hands.
Verdict:
Boiling Crab is popular and the pre-opening lines attest to that.  Overall the seafood is fresh and cooked properly to just the right doneness. The sauces are tasty and meld well.
I prefer Boiling Crab's flavors over Red Crawfish in San Mateo. Prices are also slightly lower than RC. The other advantage BC has for us is proximity: a 15 minute drive as opposed to 35-40  minutes.  If you need a crawfish fix, Boiling Crab is a great place to satisfy your cravings.