We reserved a mid size/intermediate car with Hertz on our recent trip to Vegas and when I went to go pick it up at the counter in Caesar's, all they had were 2 SUVs, both GMC Acadias .  While it's was a nice "upgrade", we really did not need the extra passenger room, but swapping out the car meant going to the airport and we did not want to deal with the hassle. I guess it would suffice for getting us "off the strip" to see the other parts of Vegas.
This is a LArge, lengthy, heavy Vehicle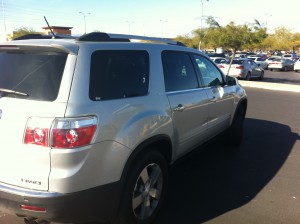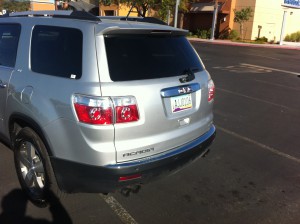 My first impressions were that this thing is big, like boat sized big, rivaling some full sized 1980s van.  The cabin rides high, not 18 wheeler/truck driver high, but higher than most minivans and comparable to a truck's. Visibility is hindered by the B and C pillars, and it is hard to judge where the rear is exactly.  Thanks goodness for the back up camera and sensors, whose beeps I came to depend when negotiating parking lots/garages where regular sized spaces were dwarfed by this SUV. The backup camera was integrated into the rear view mirror instead of the center stack like other SUVs and minivans, giving the driver a much better view, as the rear window is fairly high set, creating a large blind spot directly behind.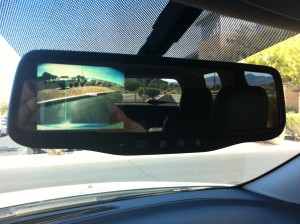 Rear view camera integrated into rear view mirror
Backup sensors
DrIVING IMPRESSIONS
We got an all wheel drive version of the Acadia. It takes a bit of getting used to, especially the throttle/tip in, as all four wheel grip to propel you forward.  There seemed to be a slight disconnect between the AWD, powertrain, and transmission, as each seeming to be fighting the others on the best way to move this rather heavy vehicle forward. This made for some jerky movements as we pulled away from traffic lights or tried to pull into traffic from a parking lot entrance. Took some getting used to.
Driving down to Primm from Vegas gave us the opportunity to test the Acadia's highway manners.  Using the "seat of the pants"  measurement method, acceleration up to freeway speeds was decent, given this SUV's weight and size, making merging fairly straightforward. At speed, cabin was relatively quiet, but the ride was a bit soft as I felt a bit disconnected from the road .  Changing lanes requires some advanced preparation because of the aforementioned blind spots. The side mirrors are supplemented with smaller fisheye mirrors, which help, as over the shoulder checks are often obstructed by the B and C pillars.  Traffic was light, so did not have a chance to test how well it darts into and out of traffic, but I suspect it would be challenging. Steering feels very disconnected and overboosted. While this is great for low speed, parking lot maneuvers, it does not instill confidence at higher speeds.
Interior
I would say it is typical GM rental car chic, which is to say it's not bad for a rental car, but I would not put it at the top of my list for purchase consideration.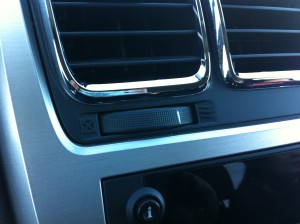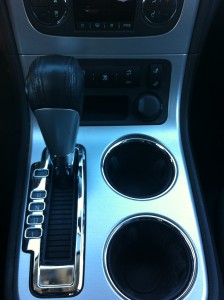 Center stack is functional with standard looking radio buttons and climate control.   Gearshift and center console area is similarly encased in plastic.
Steering wheel had the requisite hand controls for radio, phone, cruise control, etc. What threw me a bit though was the volume controls were rocker switches that were on the underside of the other buttons. Took some getting used to, but once you knew they were there, changing volume did not require moving your hands off the wheel to push the buttons from the front side.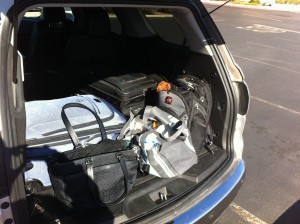 Trunk space was very ample, allowing storage of up to several suitcases, rollaboards, backpacks, etc.  The windows were tinted sufficiently in our rental car so you could not tell for certain whether something was stored in the back, which was an added piece of mind as we shopped at Primm and other places around Vegas.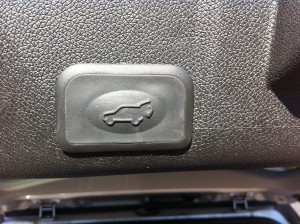 Liftgate was power assisted, activated via the remote or truck switch.  Power assisted close was activated by a button on the tailgate or remote.
Conclusion:
As a rental, this car proved sufficient. if I had to transport many passengers and/or their gear, I think I would have appreciated some more of this SUV's qualities.  Did not really get a chance to stress test the AWD in wet or snowy weather, but it seemed to be more a hindrance in the dry Vegas climate. All in all, it did not wow me enough to consider it in my short list of cars to evaluate for my next auto purchase.