Grabbed some to go food from Dish n Dash in Sunnyvale. Pictured are Chicken Swarma lavash wrap, fries, and baba ganoush. You can choose from several sauces to complement their food. Pictured are three: Tahini, chipotle tahini, and mint cilantro.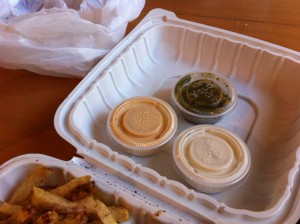 The meal above was in the $9-$10 range, but the food is a step above the normal fast food or company cafeteria type of food.  Well worth it if you have a craving for Mediterranean food for lunch.
Tips: Parking lot can fill up quickly during the lunch rush, but you can park in the motel lot next to it.  You can call in or submit your order online, then go directly to a dedicated pickup window around the back.