Theresa and I made some last minute plans to meet up with our friends Steven and Stacy last Saturday night.  Since they live further up the Peninsula, we figured it would be better to meet somewhere in between there and the South Bay so no one had to drive too far, and decided on Palo Alto as a good in-between point.  Theresa yelped this place, and it got decent reviews so we decided to check it out.  La Bodeguita del Medio is a Cuban restaurant located on California Avenue, which is away from the main hustle and bustle of the trendier and much busier downtown area/University Avenue.
Entering the door beyond the hostess stand is the lounge/bar area where you can grab drinks from the house bar and order some small plates/appetizers.  If you are there for a full meal, you would be seated in main dining room off the main entrance to the right, which is where we were seated.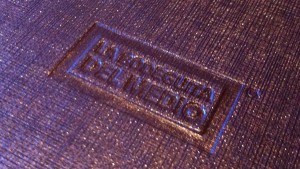 The menu consisted of typical Cuban fare like roasted pork, seafood dishes, stews, plantains, rice and beans, etc.   We looked around at the other tables and noted that entree portions seemed generous, so we decided to do family style and share dishes. The hostess and waiter both recommended the Ropa Vieja, and from our casual scans around the dining room, the paellla seemed to be pretty popular too, so we decided to order that and round it out with a side order  of plantains.
The plantains were nicely caramelized but were softer, less starchy, and a bit sweeter than what I was expecting, having a mouth feel and taste profile closer to bananas.  I am not being necessarily negative on the dish, as it was well prepared, just a matter of personal preference.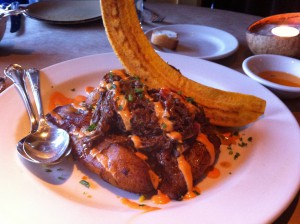 The Ropa Vieja is shredded skirt steak with chilis, peppers on a bed of rice and plantains and accompanied by a fried plantain chip.  This dish reminded me of Carolina pulled pork in terms of mouth feel and consistency, but with Cuban seasonings.
The paella had clams, mussels, fish, chicken, chorizo, and shrimp in "spiced" yellow rice and came in a traditional paella pan.  It's a bit tough to gauge the size of it based on the picture above, but it is substantial.  The menu stated the paella "serves two", but when it arrived at the table, we were all a bit taken aback by how much food was in the pan.  Easily could feed 3 people with pretty hearty appetites or 2 really really big eaters, so plan accordingly.  The clams and mussels sat atop the rice, with the other proteins mixed into the rice.   Stacy and I both noted it was a bit wetter than other paellas we have had in the past, and overall, I would put it in the middle of the pack of all the paellas I have had.  Nothing too stellar to make it stand out, but I would recommend ordering if you do come here.  Bodeguita also has a Ajaico, which is basically a stew with a whole variety of seafood served in the same large pan with a side of rice and beans. We had seen other tables order it and it looked really good. Definitely want to try that on our next trip.
Steve had been eyeing that night's dessert special, the Banana Tres Leche, since he saw it on the menu, so it was a must order when dessert time came around. We also ordered the key lime tart.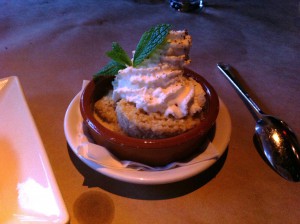 Sometimes when you  go to restaurants and they feature a dessert that is flavored with something, what they actually do is top the dessert with that ingredient or element, especially if it's fruit. We asked the waiter if this was the case, and he stated the banana was actually incorporated into the tres leche cake and topped with a rum whipped cream.  Nice combination of flavors, but like the Ropa dish, I felt it was decent, but nothing super memorable about it.
Everyone's first reaction when tasting the key lime tart was "wow that's tart".  The baker definitely did not spare the lime juice when making the filling. On the spectrum of all the key lime desserts I have had, this one definitely is one of the tartest.  If you're like me and really enjoy sour and tart (think sour patch kids candy or lemon drops), then this was a good dessert. Otherwise, I would skip this in favor of something else.
Portion-wide, the desserts were of decent size. If you are a dessert person and have/save room after the meal, then order one for yourself, otherwise I would recommend sharing.
Verdict:
I would classify Bodeguita as good casual. semi-upscale place with fun atmosphere. The bar seemed to be hopping when we left, so i can see it being a good option drinks with friends, especially if you don't want to fight the crowds of downtown Palo Alto.  I have only tried one other Cuban restaurant in the area (Habana Cuba, San Jose) and never having been to Cuba, the Caribbean, or Miami,  I have little to compare how authentic Bodeguita's Cuban fare is. My impressions were that the food was well cooked and service was nice, but nothing that night stood out as an overarching reason to return in the near future or go broadcasting to my friends that this is the new "must try" place along the Peninsula.   I would, however,  keep this on my list of suggested Palo Alto restaurants, especially if my fellow diners want something a bit different than the normal Asian, Italian, California cuisine.