Decided to seek out and try some new brunch places and found Pastis in Palo Alto. Located on California Street, not far from La Bodeguita Del Medio, a restaurant we had been to before. Pastis bills itself as an authentic French bistro serving brunch and light lunch fare.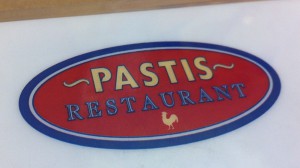 A good sign of Pastis' French authenticity was the wait staff all communicated in French. In fact, several Yelp reviewers stated that French ex-pats frequent Pastis. Further research on Yelp revealed the pain perdu (aka French toast) was popular and a signature dish.  We decided to also order the open faced croissant sandwich and the French  onion soup.
Open face croissant with ham, cheese, 2 sunny side up eggs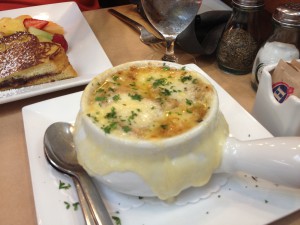 French Onion Soup
Pain Perdu with Chocolate Hazelnut spread and bananas
The pain perdu had the proper custard texture/feel and ranked above the run of the mill "French toast" you get at greasy spoons and diners. A minor complaint was I felt there should have been more banana in the dish, but this is more of a personal preference than anything else. The eggs on the croissant were properly sunny side up and worked well was an open faced sandwich. Surprisingly, what I liked the best was the French onion soup.  More often than not, American interpretations of French onion soup are salt bombs topped with globs of rubbery cheese. Pastis' French onion soup had the proper amount of salt, nice beefy broth, and just enough melted cheese on top.
Menu prices are typical for a restaurant with a Palo Alto address (although not as high as Parisien cafe pricing). In exchange you get food that is well prepared with fresh high quality ingredients and an authentic French touch.  After Sunday brunch, you can walk out onto California for the farmer's market, or on other days explore California Avenue.  Pastis certainly delivers on the French experience and is a good brunch spot.