If you love chocolate and are in Las Vegas, you should try Max Brenner, Chocolate by the Bald Man, located in the Forum Shops at Caesar's Palace.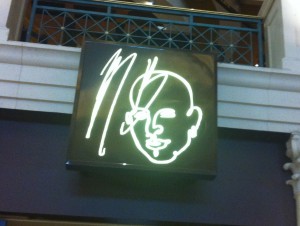 We did not try them for dinner, only for dessert, ordering the "Fondue for Sharing". We opted for the dark chocolate fondue (you can also choose milk or white).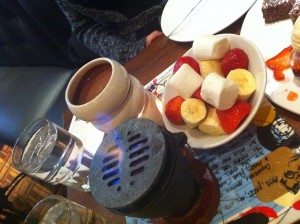 The order comes out on two platters, the first of which has a bowl of banana, strawberries, and marshmallows and a little hibachi grill (the same type as Pu Pu platters of yesteryear) for roasting those marshmallows.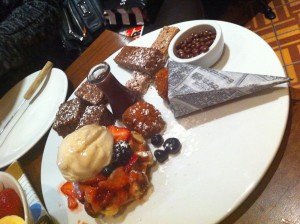 The second platter consisted of a waffle topped with fruit and ice cream, banana bread, homemade chocolate bark, banana tempura, chocolate pearls, and chocolate ganache in a vial for pouring over everything.
If you love chocolate, Max Brenner is a great place to satisfy that craving. The banana tempura was the highlight,  with the shell being closer to a hush puppy texture and less like a fritter. Roasting the marshmallow is a fun activity as well, trying to achieve a nice browning without letting it ignite into a flaming mess.  This dessert bonanza will definitely raise your blood sugar levels a couple hundred points after consuming, so the long walk back to your hotel room is a good way to burn off all that energy.