It's been a while since I had gone to The Counter, primarily because the first location was in Santana Row, which is typically super crowded during meal times.  A new one opened in Mountain View in a less busy location, so decided to hit that up with Theresa and her co-worker.
The concept:
Design your own burger, meaning you are given a list of things you can top your burger with. Each diner is given a clipboard with a check list menu. If you ever filled out a survey or insurance forms, you will be familiar with this part.  Choose a burger size, cheese, sauce, toppings, and bun. The list includes the standard pickles, sauteed onions, mustard, and cheeses, but also include some more exotic toppings like cranberries, jicama, and bean sprouts.  Bun choices are varied.  There are also "Market Selection" options, which are seasonal items in each category.
The base beef is angus beef that is hormone and antibiotic free. You can choose between 2 sizes of burger, 1/3 lb and 2/3 lb. The weight of the burger is AFTER cooking, so plan accordingly.  For those overwhelmed or rendered paralyzed from indecision, there are also several pre-defined burger creations on a separate menu to choose from.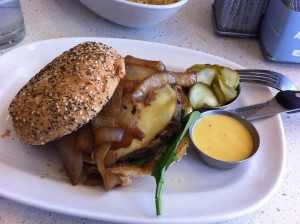 Regardless of the sauce you choose, it is always served on the side, which i like a lot because i prefer not to have my burgers (or sandwiches for that matter) drowned in a sauce that overwhelms the other elements.  The base burger patty was cooked well and fairly juicy/moist, although I found Smashburger to be "juicier".
Verdict:
The Counter is ideal for those looking for a fully customized burger and should satisfy a wide variety of burger lovers' preferences.  On the spectrum of burgers,  i would slot The Counter above Smashburger and Red Robin (and certainly way above the burgers you get at larger chains like Chili's), but a notch below a place like Holstein's. The Counter's pricing certainly reflect that, as does the table service dining experience. For Bay Area residents, I would suggest the Mountain View location, as you won't have to deal with the Santana Row crowds, parking, and traffic.