The food court at Valley Fair mall in San Jose has been remodeled and has gone upscale, being renamed "The Dining Terrace".  Seems like Westfield kicked out the fast food vendors and installed more local foodie places.  One of those is San Francisco's Super Duper Burger, which serves gourmet burgers at reasonable prices.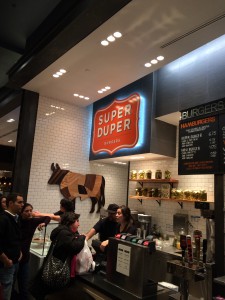 Super Duper offers counter service where they take your order and then issue you a pager to let you know when your order is ready. The menu consists of the regular burgers, fries, and shakes. They also had wine on tap". I did not know that wine came in kegs….. Not sure if that will sell well in the land of wine snobs.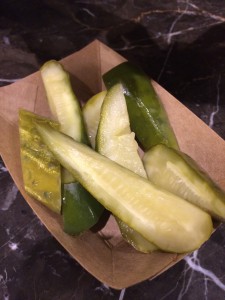 One of Super Duper's differentiating elements is its own homemade pickles. Entire jars are set along side the ketchup and mustard at the condiment station.  You can munch on them while you wait for your order or after your burger to cut the grease and/or cleanse the pallet. The pickles are really crisp and not overly salty like most pickles you buy at your local mega-mart, but a bit on the vinegary side. You have an option to add pickles to your burger, but I would recommend eating them separately, as the tang is nice counterpoint to the pretty rich burger.
We ordered the Super Burger which contains two 4oz patties. You can top with lettuce, tomato, "super sauce", red onions, grilled onions, jalapenos, and pickles. Cheese, bacon and avocado can be added for an additional up charge.  I chose lettuce, tomato, grilled onions and super sauce.  We also ordered the garlic fries.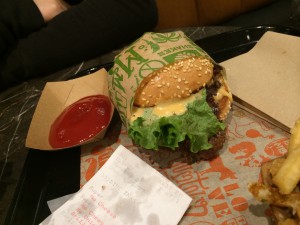 The burger patties were fairly large for the size of the bun overflowing over the sides. Having two patties made this a very meaty sandwich. I found myself needing the paper wrapper to properly contain all the meaty goodness.  The meat patties themselves were well cooked, but not as juicy as Smashburger or Holsteins, perhaps because the beef itself was a courser cut and/or cooked differently.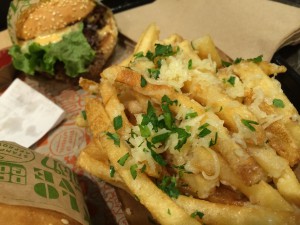 The garlic fries were a thicker cut variety and topped with garlic, parsley and cheddar instead of the usual Parmesan cheese. While I would order them again if I had a garlic fry craving to satisfy, I would not put this as a "must try" item.
Verdict:
The lowly hamburger seems to be making a comeback in foodie circles and Super Duper is competing in the same space as Five Guys and Smashburger. Westfield has accomplished its goal of getting me to return to Valley Fair more often with the opening of their "dining terrace".  Not sure I would fight the crowds on the weekends and holiday shopping season just to eat here, but if I happened to be at the mall or during off peak times, Super Duper would be a detour I would be willing to take to get a good burger.