Looks like Nordstrom is following the trend of mall dining going upscale. In conjunction with a remodel of its Valley Fair location, Nordstrom had shifted the format of its cafe, renaming it Bazille. Gone is semi-table service format where you ordered at the counter, seated, and then served by a waiter. Now the restaurant is full table service. Bazille also serves alcohol now, offering wine and beer. Menu items have also been slightly tweaked. What stays are the sandwiches, salad, pizzas, and soups while new additions are on the entree side.  One such dish is the bouillabaisse.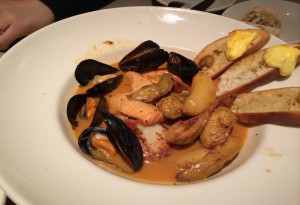 Broth was rich, with a good amount of fresh seafood with large shrimp, seared scallops, mussels, salmon along with sauteed fingerling potatoes and croutons.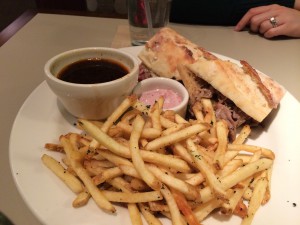 The prime rib french dip sandwich was something that was recommended to us by both the waiter and various Nordstrom employees.  The meat was very tender and topped with a bit of melted cheddar. The sandwich tastes good all by itself, not really needing the au jus dipping sauce. The au jus was a bit salty, but in line with the typical au jus you would get at other restaurants.
Entree prices are a bit higher compared to the old menu, as you might expect, but the sandwiches, soups, salads, pizza pretty much carry over the old pricing, perhaps with a little bump to account for higher costs. Expect to spend about $15-$30/person depending on what drinks you order. Ordering the seafood will also drive the price up.  Bazille is worth exploring, especially if you happen to be at the mall and want a decent sit down meal. Nordstrom is going to roll out Bazille to its other locations over the next few months.