Cajun seafood places seem to be gathering popularity here in the Bay Area, and we found another one in North San Jose called Kicking Crab.  Located in a small strip mall, parking can be a challenge in the small lot, which can resemble parking in Taipei's network of narrow alleys and tight streets.  The restaurant can seat quite a bit of people, but expect a wait for dinner, although not as long as Boiling Crab.
The setup is the same as  Boiling Crab and Red Crawfish. You order seafood by the pound, choose your sauce and spice level, and order sides such as gumbo, soup, and fried goodies. The seafood comes in a larger plastic bag immersed in sauce.
Seafood is priced by the pound and varies depending season.  The combo meals work out to be a bit cheaper than ordering the same amount a al carte, so we chose to get the one that included 1 crab,  1lb of shrimp, and we swapped out the 1lb of clams for crawfish. We chose the mild level house "Kickin" sauce, which is a combination of cajun, Louisiana, lemon pepper, and  butter garlic.   The Yelp reviews mentioned the garlic noodles were worth getting, so we ordered that too.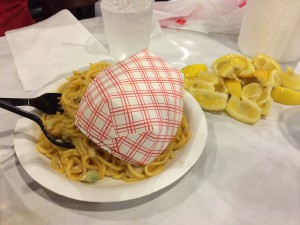 The sauce was a very thick, red, buttery paste laced with copious amounts of chopped garlic.  The seafood itself is plain, so you will find yourself dipping the peeled seafood in the sauce from time to time. As you eat more, you can just slather the sauce that accumulates on your hands instead of dipping it back into the bag.  I actually prefer Kicking Crab's sauce to Boiling Crab's, as it packs more punch and is less greasy.  Shrimp, crawfish, and crab were all well cooked (which is to say they were not overcooked like some places). I would not advise getting any higher heat level because any more pepper/heat will probably blow out your palette to the point you will not be able to taste the underlying seafood toward the end of the meal.
The garlic noodles are for definitely for garlic lovers, with our estimate being each dish comes with a full clove of sauteed garlic swimming among each plate of noodle.  Noodles were soft with a bit of chew, and complemented the seafood nicely.  Definitely worth ordering.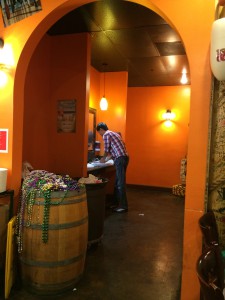 It goes without saying that eating here is a messy affair. While we chose to forgo the plastic bibs, most diners did don them, and some diners even brought plastic food service gloves to avoid the eventual messy business of peeling and eating the seafood. Personally I think it's part of the experience, but if you do choose to follow our lead, avoid wearing anything white and wear washable fabrics, as the smells of the restaurant do penetrate into yours clothes.   The restaurant also has a dedicated wash station so you don't have to venture into the restrooms to scrub your hands of all that Cajun goodness.
We  asked the staff to wrap up the remaining food, which they did by putting the bag on our table in another new bag and tying it tightly to avoid leakage.  If you liked the sauce like we did, i recommend you do this, as you can use the extra sauce to season something else for dinner the next day. Not sure if it freezes well, but we did not have enough left over to try (although we thought about it).
We saw many people do take out, which I think is a great option to avoid the potentially long wait to be seated. This might be a good option if you have a large party, as we noticed it took more time to seat the larger parties.
Verdict:
Overall, I would rate Kicking Crab a wee bit over Boiling Crab for the food, mainly due to the sauce, which we found to be better.  KC gets some minuses for the parking situation, but it's not enough to deter me from returning.