Located off CA 92 in San Mateo, Wakuriya is a Japanese Kaiseki restaurant serving California inspired multi-course Japanese fare. The menu is prix fixe, and the items rotates depending on what ingredients are freshly available or in season, and the chef's discretion.    Normally, my reviews only encompass the time spent inside the restaurant, but Wakuriya merits a chronicling more than just the actual dining experience, namely the reservation experience
The Reservation Experience
The restaurant is very small operation, run by a total of 3 employees: owner chef Katsuhiro Yamasaki does the main cooking, his wife runs the front of the house and does some prep and finishing, and a bus boy/dishwasher.  As a consequence, the restaurant only serves a maximum of 16 diners per night. There are two seatings per night, spaced 1/2 to 1 hour apart as not to overwhelm the server or the chef. Wakuriya only takes reservations one month in advance. Additionally, reservations can not be made online or via email, only  by calling the restaurant after midnight, exactly one month in advance. So for example, if you want to dine on the 3rd of the next month, you have to call midnight on the 3rd of the current month (i.e. when the clock turns from 11:59pm the night of 2nd to 12:00am the "morning" of the 3rd).  As a consequence, hard core foodies start furiously dialing in at exactly midnight like radio listeners calling the station to win concert tickets and backstage passes to their favorite band. If you are lucky enough to get through, you get the restaurant's answering machine, on which you leave your name and contact phone number. Priority is set based on the order the calls were received, and you will be granted a coveted reservation if any slots are left after fulfilling the reservation requests of the previous callers. So better hope the first caller to get through does not take all the slots  The restaurant then calls you the next day to inform you whether you got a reservation or not.
Armed with this knowledge, we employed no fewer than 3 phones on the night in question. After being greeted with the dreaded busy signal for the first few attempts, we got accustomed to pressing the end call and redial buttons with the speed of a telegraph operator on crack. Theresa finally got through at 12:03 and left a message. We got through again at 12:07 and I left a request as well.  We found it very hard to wind down and get to sleep afterwards.  The next day, Theresa received a call stating we got a reservation for 2 at 6:30. Success! The restaurant asked for a credit card number to hold the reservation and we were all set.
Location and Atmosphere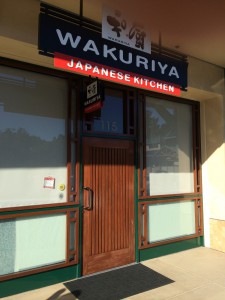 The restaurant is pretty non-nondescript storefront, located in a small plaza/strip mall with a Safeway and a few other shops. Inside the restaurant, along the left hand side is a ktichen and long counter, while along the right side are tables. The decor is modern contemporary, with warm woods and clean lines.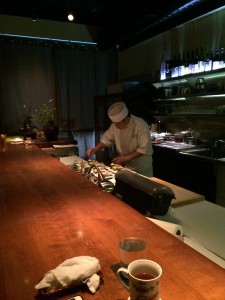 We arrived early and was able to choose where to sit. We chose to sit at the counter to watch chef Yamasaki in action. Would recommend this option if you are a party of 2, but for 4, a table would be better. Sitting at the counter allowed us to observe more of the operational side. The pacing was "Japanese efficient", with the chef and wife team going about their tasks in a brisk, but unhurried manner. A contrast to the typical restaurant kitchen, which can sometimes resemble the frenzy of a retail store on Black Friday.
Pre-meal 
After we were seated, we were given an amuse bouche of strawberry infused sake.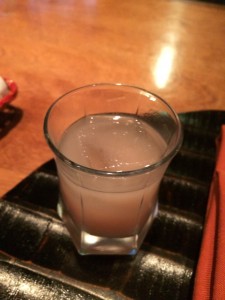 Since the menu is set, the only decision we had to make was what type of beverages we wanted. We decided to order a flight of Japanese Sake which consisted of 3 X 2oz glasses. We chose the Tsuki, which consisted of Kubota, Hekiju; Shimeharitsuru, Jun; and Koshino Kanbai, Muku.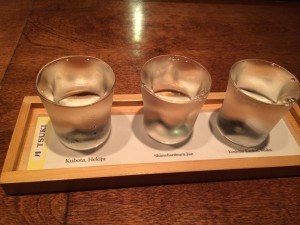 Each sake had a nice clean finish without being overly dry.  The Koshino was my favorite, with just enough "rice-i-ness" without being overly muddy.  While I am no expert in Sake, it seems like Wakuriya has a good selection, and is a good accompaniment to the meal.  Would recommend it.
 Main Courses
We were given a short description of each dish after presentation.  I have copied and pasted the menu description for each course below, followed by my commentary/impressions, but given the complexity of each dish, I am sure I will miss something.
Sakizuke (Starter)
"hiyashi chawan-mushi" shrimp, squid, okra and tomato on chilled egg custard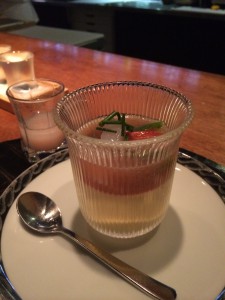 The egg custard was silky smooth, with a pudding like consistency, topped with a thick gel. The texture and mouth feel of the squid was definitely the surprise of the dish, resembling the tenderness of lychee jelly you get in Asian drinks, and not the rubbery feel you would normally associate with squid. I would love to know how the chef accomplished this. My suspicion is that the squid was cured somehow to accomplish this. Great way to start off the meal.
Zensai (Appetizers)  – assorted appetizers
Homemade "goma-dofu"(sesame tofu) with freshly grated wasabi
Salmon and Japanese cucumber with cream cheese sorbet
Japanese eggplant and Maple leaf farms duck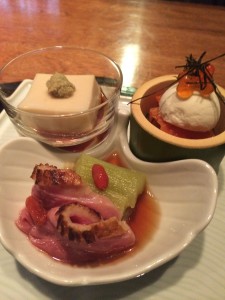 This trio displays the fusion part of the restaurant. The tofu was not made from soy but rather another vegetable, which the wife mentioned, but I did not catch.  Topped with freshly grated wasabi (no cheapo powder based stuff here), and sitting in a ponzu type sauce, the mouth feel was custard like and silky smooth. I was expecting the wasabi to be very punchy and sharp, but it was very subdued, most likely pickled to temper it a bit.  Definitely my favorite of this trio. The salmon was wild salmon from the Alaska, wonderfully fatty and topped with a cream cheese sorbet and salmon roe on a bed of soy based pickled cucumbers.  A very nice play on cream cheese and lox, minus the bagel of course. The sorbet had a nice airiness and mouth feel was smooth, without chunks of ice or wads of fat. The duck was cooked rare and had a nice smokiness to it, accompanied by skinless Japanese eggplant. The eggplant is worth mentioning because it is very difficult to retain the structural integrity of the eggplant without the skin and still achieve the crispness, perhaps via blaunching and shocking with water? Unfortunately this was prepared before service, so no way to tell for sure, although I would love to know.
On mono (Hot dish)
"Alaskan gindara no aoto an-kake"
Steamed black cod, Sun Smiling Valley farms shimeji mushroom and vegetable with thickened sweet green pepper sauce
The dish was served slightly warm, with the prefectly cooked fish surrounded by a savory sauce, which we could not get enough of, packing a lot of umami like flavors, it must have been reduced for a while to concentrate the flavors.
With the amount of sauce, I expected the mushrooms and fish to just sink, but when digging deeper, I discovered there were strands of something that served to elevate the fish fish and mushrooms.  Not quite sure what this was, beyond being very delicious. Maybe delicately cooked strands or green pepper? Regardless, we enjoyed each bite.
Tsukuri (Sashimi)
"suzuki to hotate ,Nihon kara"
Wild sea bass and scallop from Japan
"su-miso "(vineger-miso) sauce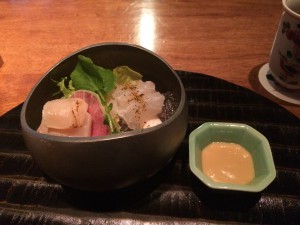 This dish is all about ingredient selection and presentation. While a mustard and miso based dipping sauce was provided, it was unnecessary, as the sashimi stood well on its own.  Scallop had a slight "taste of the sea", while the bass was a good balance of richness.  I ended up using the dipping sauce only with the micro green garnishes.
Age mono (Deep fried dish)
"lobster no haru-maki"
deep-fried spring rolls with lobster, corn and king-oh mushroom
Tempura snap peas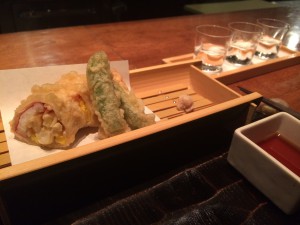 Japanese cuisine, gotta have something deep fried, right?  Lobster was properly cooked, and the sugar snap pea was a nice change from the typical long bean tempura. While this was my least favorite dish, that is not to say I did not enjoy it or that was improperly cooked. Saying this is my least favorite dish is like saying I was the worst player on the NBA all star team. It's not that it was a bad dish, but it was out shown by the others, which were more unique and intriguing.
Hashi yasume:
Garnite "suika"(water melon) sorbet
ginger sauce with chia seeds
This dish is meant as a palate cleanser before proceeding to the next set of richer dishes. The sorbet only had a slight sweetness with a subtle watermelon flavor.  While the descriptions says sorbet, I am not sure it is a truly sorbet in the traditional sense. While it had an airiness similar to the cream cheese sorbet of the earlier course, it lacked the iciness and general chilly mouth feel.   The other curious thing was it kept its shape despite being out in the open for a bit before we consumed it. Additionally, this dish was pre-made before our arrival and we saw the chef bring it form the back and place it in the fridge underneath the counter where it sat for a good while before being served. When served, the glass was not cold to the touch, nor was the ginger chia sauce super cold either, indicated it was not super chilled while sitting in the fridge. Liquid nitrogen treatment perhaps? And mission accomplished. Palate cleansed.
Yaki mono (Grilled dish)
"Snake river farms American wagyu beef no ishi-yaki"
Kobe styled beef and vegetable grilled on heated "ishi"(stone) at your table served with fresh tomato-ponzu sauce
So for this dish, you only have yourself to blame if you don't like how your steak is cooked.  Again, this dish is all about ingredient selection, and the beef (ribeye) provided a nice richness. The best element had to be the tomato ponzu sauce, which matched the steak nicely.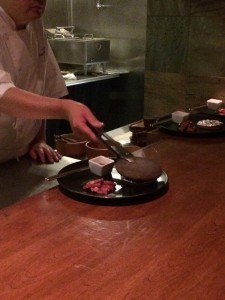 Above is the chef placing a rock that had been sitting on the gas burner since our arrival, and it gave off some serious heat. Metal chopsticks are provided so you can grill the meat to your liking. While there was some stickage on the first couple of piece, we got the hang of it by the last piece.
Gohan mono (Rice dish)
"maguro to avocado no chirashi-zushi"
pan sautéed tuna and fresh avocado over sushi rice with egg omelet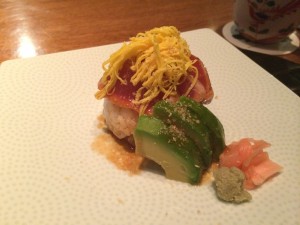 The tuna was flashed seared on four sides, leaving the middle appropriately rare, topped with a ponzu/soy sauce based sauce. Well executed and a nice end to the savory portion of the meal.
Homemade Dessert
White peach crème brûlée and chocolate "mochi"(rice cake)
Served with green tea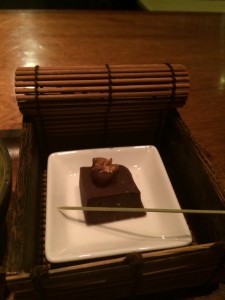 In typical Japanese fashion, dessert is dressed up and presented beautifully.  White peaches are in season, and the cream brûlée played it up nicely with the perfect amount of sweetness and topped a nice sugar crust. The mochi had a nice dark earthy chocolate taste and provided a nice ending to great dining experience.
Overall impressions
I would have to say Wakuriya is well worth the effort it takes to secure a reservation. You can tell a lot of love, creativity,  artistry and attention to detail goes into everything that chef Yamasaki does. The food is creative, interesting, and beautifully presented.  Set your alarms for 11:59pm and start dialing once the clock hits midnight…. And hope you get through before the others take the reservations that are rightfully yours.  And if you have a choice on arrival, definitely sit at the counter. It will make you appreciate the food even more.