The Grub Shack is located in downtown San Jose on Santa Clara St, a few blocks from the SAP Center/San Jose Arena/The Shark Tank,  and serves up an updated. more gourmet  take on Hawaiian BBQ.  GS has been on Theresa's Yelp radar for a while, and a recent trip downtown motivated us to stop by on a Thursday night.
The Atmosphere: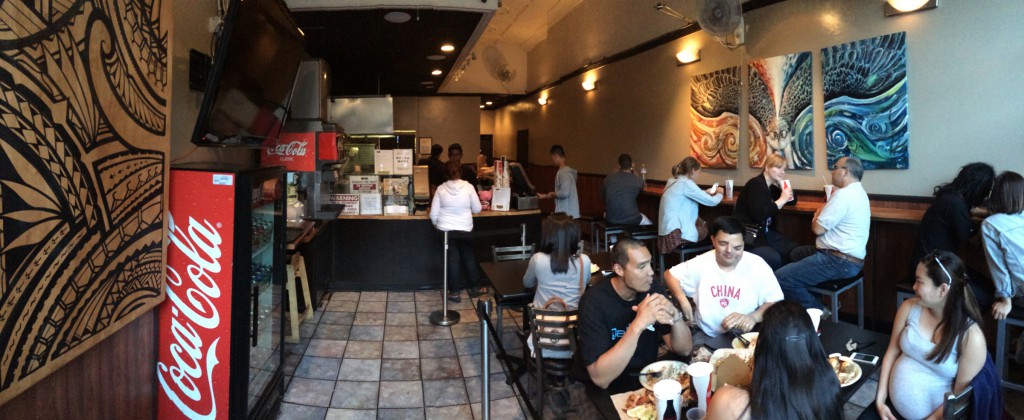 The restaurant offers counter service with 2 tables and 8 stools along the wall. There are also cocktail style tables outside where you can stand and eat. The setup is like other Hawaiian BBQ joints, where you eat and run or do takeout.   Definitely not a place where you sit and chat at length after dinner. Staff was friendly and efficient.
The Food:
The standard Hawaiian BBQ fare like Kalua Pork, Garlic Shrimp, Loco Moco, and Tuna Poke are offered as well as burgers and hot dogs. They ran out of the tuna poke, which is something we really wanted to try, so we opted for the 12 shrimp plate/platter and the Kalua Pork Fries.
The garlic shrimp plate come in 2 sizes, 6 and 12 shrimp. We opted for the 12 since we were sharing. The shrimp was tossed in a light garlic sauce accompanied by a couple of lemon wedges. While it can not compare to Gianvanni's shrimp truck on Oahu, GS's shrimp is pretty tasty.  Plates come with 2 scoops of rice (brown or white) and their house macaroni salad. The rice  does a good job of sopping up the extra garlic sauce on the bottom of the plate.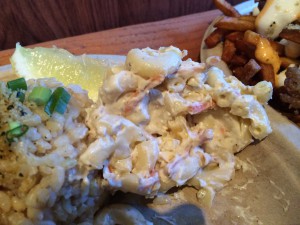 The macaroni salad was adequate, not really distinguishing itself, and similar to what you would get at other Hawaiian BBQ joints minus the heavy dose of MSG .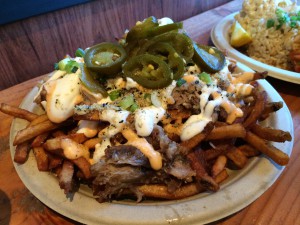 The Kalua pork fries were mentioned (and photographed) a lot on Yelp, so it was on my must try list.  This is another "don't get your cholesterol checked the day after" dish.  The portion is very substantial, but I guess it needs to be to justify the price ($9.50). The fries are topped with Kahlua pork and jalapenos and drizzled with sour cream and their own GS sauce.  The fries themselves were thin cut and were "seasoned" somehow, having a slight hint of flavor similar to, but not exactly teriyaki.  Perhaps they were tossed in a thin glaze after frying, but when combined with the pork and sauce, it made for a tasty dish, and not a just a bunch of stuff piled on top of plain potatoes.  The pork was definitely the standout ingredient of the dish, and based on our experience, I think I would order the pork plate on our next visit. If you do order the fries, I would definitely recommend you share. We could not finish it, and had to leave some behind. Unless you are a big eater, plan to take home leftovers or share plates.
Verdict:
Based on this experience, we would return to Grub Shack. The ingredients were of higher quality than your typical Hawaiian BBQ, but it also means you will pay a bit more.  For suburbanites like us, the location is a minor negative, since it sometimes does not justify the time needed to  fight traffic and park during business hours or on days an event is taking place at the SAP Center.  The same reasons makes it impractical for us to "swing by" to do take out for dinner (which we would totally do).  But for a quick hit and run dinner, Grub Shack fills the bill.  So if we happen to be downtown for a Sharks Game or other type of business, I would definitely put this on the short list of places to hit. A GS food truck would solve the location/accessibility issue. Wish they had a suggestion box.