The Concept
Ad Hoc is a more casual and more affordable counterpart to Thomas Keller's high end French Laundry, showcasing contemporary American/Californian cuisine. The concept is the same as Wakuriya, with a daily prix fixe menu (in the case of Ad Hoc 4 courses: an appetizer/ salad, main protein dish, fruit/cheese, and dessert) that rotates daily depending on what ingredients are freshly available and the executive chef's whim.  An optional add-on small course is the only other decision diners have to make besides wines and drinks. The overall vibe is whimsical and fun.
All dishes are served family style at the table. This immensely simplifies the operations and allows the restaurant to concentrate on doing a few thing well rather than splitting its attention on several different dishes, flexes the creativity of the executive chef, and allows last minute adjustments based on what ever ingredients happen to be in season (or other circumstances, as I will outline below).  Diners, have to be equally flexible, though, being willing to accept anything that is thrown at them with little notice. This makes Ad Hoc unsuitable for picky eaters or those with dietary restrictions. The restaurant is willing to accommodate some  dietary requests (like omitting an ingredient because of allergies), as dishes are made to order, but making wholesale changes (e.g.  swapping the evening's protein dish because you don't like it) might not be possible.
Our experience: 
Checking the web site the day of our reservations, it looked like the main course was going to be osso busco, but when we arrived the menu stated grilled hanger steak. We found out from our server that the chefs had to make the last minute change because in his words "the osso busco was not cooked enough". My guess was it left braising overnight and the "taste test" in the morning was not up to par. I guess the beauty of the format is that you literally can change the menu at the last minute and not disappoint your diners.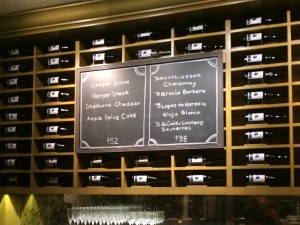 First course:
Caesar Salad with boquorines, torn garlic croutons, kalamata olives and Parmesan dressing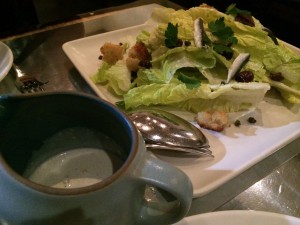 While it may seem simple, dressing a salad is a fine balance, and often a matter of personal taste. Besides a small amount of dressing on the bottom acting as "glue" to preserve the presentation on the plate, the salad was not pre-dressed,  arriving at the table with the dressing on the side.  Theresa and I appreciated this, as  we like salads lightly dressed, and this allows each of us to adjust according to taste. The dressing itself was not your typical Caesar dressing, having just a hint of Parmesan and not overly salty, instead allowing the salt and acidity from the anchovies and olives to provide the sodium and acid components.  A nice way to start a meal.
Second Course:
Grilled Hanger Steak with forest mushrooms, zucchini, cherry tomatoes, lemon polenta, and natural beef au jus 
The hanger steak came pre-sliced in small medallions atop the polenta. The steak was well seasoned and cooked to medium in the center.  The accompanying roasted vegetables providing a nice bit of acid and texture contrast.  The polenta was extremely rich and creamy, with no hit of grit, which makes me suspect it was cooked long and slow with lots of butter and cream. The au jus was drizzled on top of the veggies imparting additional flavor, and allowing us to dip the steak into as needed.  All the elements worked well together.
Optional Add in:
Seared Scallops with beets, bacon, and fried leeks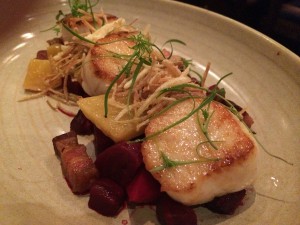 Per the suggestion of our server, we ordered 1 portion of the optional add-on, although we could have ordered 2 portions and I would have been happy.  This was the highlight of the evening.  Scallops tend to be a bit of a blank canvas, which can work in favor of a dish or work against it. The minimum requirement, in my mind, is a well cooked scallop, which implies a nice sear on the outside, tender innards, and proper seasoning.  The second element is the the pairing of the other ingredients. This dish delivered. The scallop was nicely seared and tender on the inside. The bacon flavor penetrated the beets (I suspect they were cooked together). The leeks provided a nice texture contrast to the softer scallop and beets, and the saltiness of the bacon matched well with the slight sweetness and acidity of the beets, lending a nice balance to the entire dish.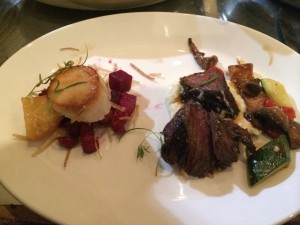 Third Course:
Shelburne Cheddar with pickled vegetables and dijon mustard
I am a bit puzzled by our third course. I looked at some other daily menus and it seems the third course is cheese or fruit based, so I guess it's meant to be the first part of a 2 course dessert. I have never been a big fan of cheese as a dessert course, and cheese did not seem to fit into the overall progression of the meal.  As an appetizer course, this would work well, but its placement after the protein seemed like an odd choice. The cheddar did have a nice sharpness, but the pickled vegetables were bit too acidic for this point in the meal. Perhaps a softer cheese with dried fruit or other sweet element would have worked better. Theresa is not a big fan of some cheeses and with both us of being pretty full from the previous courses, we left most of this alone.
 Fourth Course:
Apple Spice Cake with Burnt Sugar Ice Cream and Vanilla Caramel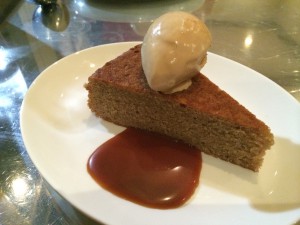 The burnt sugar ice cream's flavor was described to us as similar to the burnt sugar on top of a creme brulee, and it was the best element in this course. Nice balance without being overly sweet, which was my concern when I heard the description. The cake itself was decent, with the flavors of mulling spice and subtle apple flavors with proper moisture level. Nothing super memorable or noteworthy compared to other desserts that I have had, but provided an adequate ending to the meal.
Service:
Service was attentive and staff very friendly. Pacing of the dishes was good and contributed to a very pleasant and welcoming dining experience. Ad Hoc has gotten this part of the dining experience equation correct and is a large reason why I would come back for a return trip.
Summary: 
Ad Hoc has a fun atmosphere and culinarily has a surprise/mystery element going for it.  For someone like me that enjoys trying different things, having a daily rotating menu and discovering what the "mad scientist" cooks will come up with is a big draw. While you won't get exotic or expensive ingredients such as chilean sea bass or caviar, the ingredients are of high quality and farm fresh (they source ingredients from their  on site garden). The prix five menu (@$52/person) provides a reasonably priced alternative to more expensive restaurants of similar quality that populate the Napa/Sonoma area. Our visit had some minor misses here and there which may or may not have been caused by the last minute swap out of the main entree. My minor quibbles are more a result of personal taste and perhaps not seeing what the chef had envisioned with that particular night's course pairings rather than a lack of quality or poor execution. I'm a believer in the concept and hope to return in the future to experience what new creations the chefs will come up with it.
Rating:
Easy Call, but Raise if you find yourself around Yountville or Napa.  Fold if you do not like surprises or if you are particular in your food choices. .