Located in the Cosmopolitan Hotel in City Center, Holsteins (Shakes and Buns) touts it is the best burgers in Vegas.
Arrival and Service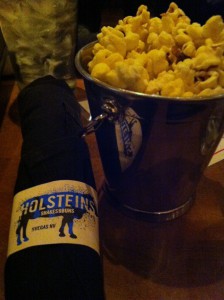 Wanted to see if that claim was true.  Made a reservation for 7:45. We arrived a bit early, and were told to come back at 7:45, at which time we were promptly seated. Menu offered burgers, shakes, and appetizers in the American pub/burder joint genre of cuisine.  Waitress was friendly, took our orders, and brought out a small bucket of popcorn for us to nosh on while we waited for our food. We decided to try one shake, The Drunken Monkey  and for burgers – the Gold Standard Burger and "The Rising Sun" Burger
The Drunken Monkey –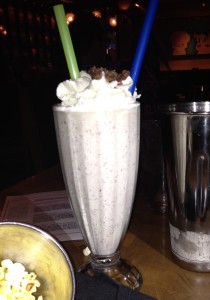 A milkshake from their "Bam-Boozled Shake" section of the menu. It has Reese's, Banana, Malt, Frangelico, and what I can assume is vanilla ice cream and milk. While, not cheap at $11, it's not cheap, and I can only assume it is that price because of the booze in it.  It did come with a steel tumbler about third full in addition to the shake in the glass. The Frangelico added a nice nuttiness to the shake, but i would be surprised if there was more than a jigger of booze in the whole thing.  If you are looking for a rich rich meal, then order a shake, but I would suggest splitting it, like I did with Theresa.  The burgers, as we found out, were very rich and fatty (like a proper burger should be)
The Gold Standard–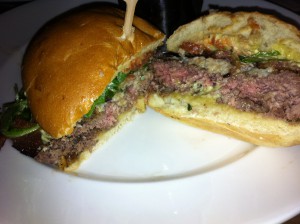 Their description – Dry Aged Beef Sirloin Burger With Smoked Bacon, Aged Goat Cheddar Cheese, Tomato Confit, Baby Arugula & Garlic-Chive Aioli
Tasting Notes: Delicious.  The beef is a bit "chunky", meaning the beef is not pulverized into little bits and formed into a patty. Mouth feel is great because the bits are loosely packed and melt in the mouth with just the right amount of marbled fattiness.  Goat Cheddar really punches through the other ingredients to give it a pleasantly pungent finish while the bacon gives is a nice saltiness, the aoili gives it just a little wee bit of extra fat to bring it all together. I could not really taste the argula, as it was tasted more like spinach next to all the wonderful fatty goodness.
The Rising Sun Burger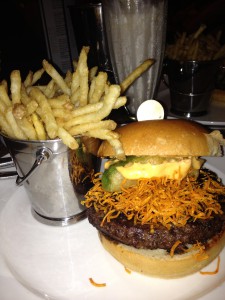 Their description -Kobe Beef, Teriyaki Glaze, Nori Furikake, Crispy Yam, Spicy Mayo & Tempura Avocado
Tasting Notes: Delicious as well. The teriyaki sauce was not overly sweet or overpowering on the burger. The "Kobe" beef was formed into a nice thick 8oz patty and had a melt in your mouth quality you would expect.  I was doubtful about the tempura avacado, especially given the size of it, lopped in the burger, but It did add even morerichness of the burger, but all in all well balanced amongst all the flavors. Warning, this is a pretty "sloppy" burger to eat. Cut it in half before consuming and be prepared to open wide.
Atmosphere – Pig That Wants to be a Cow?
Wall art consisted of several pictures depicting a pig with cow envy dressed in a cow suit doing some rather odd things. Both endearingly quirky and at the same time disturbing. We asked the waitress if this was the mascot, and she said no, the pink cow is the mascot.  Evidently the restaurant commissioned a local artist to draw them. Wonder what his inspiration was? Only in Vegas
Conclusion
We both concluded that these burgers were the best burgers we have had.  While the prices maybe high for burgers ($17.50/$17) it is still cheaper than some of the other Vegas resort restaurants. Also, the quality of the meat is pretty close to steakhouse quality and the burgers are 8oz portions.  If one opened near us or we went to Vegas again, would definitely consider revisits, although would not get a cholesterol check anytime too soon after dining here.