After a few days of very rich Vegas food, Theresa and I were ready for something a bit "lighter".  We were in the hankering for Pho, so Theresa researched some places and Pho Bosa came up.
The restaurant is located on Spring Mountain Road between I-15 and Chinatown. The restaurant occupies part of the ground floor of a motel with which it shares a bathroom. Translation, the surroundings are a  total dive.
Tip: The address is on Spring Mountain Road, but the store front faces Polaris.  Coming from I-15, try and turn left onto Polaris, and you can pull into the lot it shares with the motel
After being seated, we noticed  a sign stating they  don't pre-cook anything and make everything as it's ordered, so it's not going to be fast. !0 minutes from time of order and maybe 20+ during busy times.  Good to know. In addition to pho, they have the usual rice plates, dry noodle bowls, and grilled meats that you can warp with rice paper or lettuce (kind of like a vietnamese version of Mexican Fajita platters).  I decided to try the Bún bò Huế, based on the Yelp reviews and Theresa got the regular Phở with beef balls and brisket.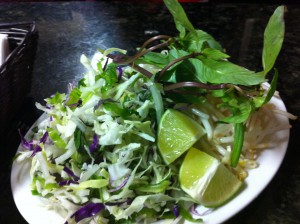 Our meal came with the fresh sprouts for the Phở and cabbage for the Bún bò Huế, limes, and basil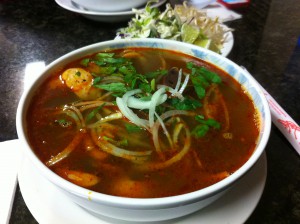 Large bowl of Bún bò Huế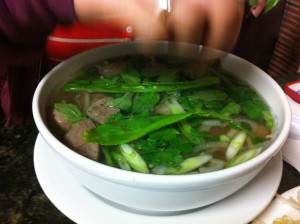 Phở with beef balls and brisket
The Food
The Bún bò Huế, was nice and spicy, with spicy oils floating on top of simmered beef broth with lemongrass flavors. Pulling the noodles through provided a nice coating of spice and the blood cubes, sliced ham hocks, and beef shank complemented the soup nicely.  It was a bit on the spicier side, so if you can not handle spice food, I would suggest you not get this. It's not a long lasting burn though, so you will be able to taste things throughout the meal.  Theresa's pho was well prepared, but a little heavy on the anise for her taste.  i tend to agree.  Broth was  not overly salty and MSG laden like some of the pho places here in the Bay Area. The prices are a little higher than your typical pho place charges for a large bowl ($9), but the food seemed fresher as well.
Conclusion
If you need your Pho fix in Vegas, then Pho Bosa is pretty good.  Would I seek it out as a must goto place everytime I come to Vegas? Probably not. Unless I really wanted authentic Pho.