San Pedro Square Market opened a couple of years ago as part of the revitalization efforts the city put into downtown San Jose.  The market consists of a couple of old industrial buildings retrofitted to hold about a dozen food vendors, a couple of bars, and plenty of outdoor patio seating.  The decor and setup retains the industrial, factory feel and offers a lot of spaces to hang out, drink, and eat.  Activity really picks up on weekends and SJ Shark game nights, like the night we went.

The market's dining atmosphere had a very gourmet food truck like atmosphere, where you order at the counters, pick up your food when ready, and then sit at communal tables with lawn chairs or benches. One vendor, Treatbot, operates out of an actual food truck set on cinder blocks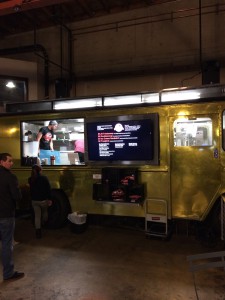 After investigating the SPSM web site and Yelp, we decided to try three things: Konjoe Burger, the Little Chef Counter, and Treatbot.
Konjoe Burger: Kalbi Burger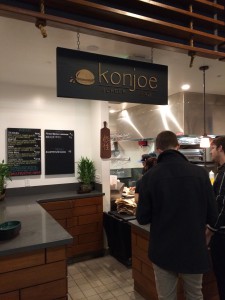 Konjoe is billed as Asian fusion burgers made from grass fed, free range beef. They have a simple menu with only 5 burgers, fries, and lemonade.  We opted for the Kalbi burger, which has kimchee, cucumbers, lettuce, kalbi sauce, and sesame aioli. Since they make everything to order and it takes a bit to properly cook a hamburger of that size, we were issued a pager so we did not have to hover about the counter. This allowed us to explore the other vendors and order additional food elsewhere.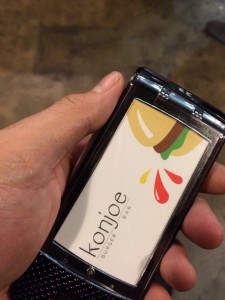 The burger was well cooked and seasoned, and pretty substantial (we estimate 1/2 pound patties) and about what you would expect for a premium priced gourmet burger.  A side of fries and hoisin ketchup are included, which softens the $12 price tag a bit, as it would be in line with the combined price of burger and fries at other gourmet burger joints like The Counter.  For light eaters, I would recommend splitting a order. Konjoe also offers a pork belly burger, which we will definitely try the next time we are there.
The burger was well cooked and satisfying. I found the sauce to be a wee bit too sweet for my taste, but overall the burger worked well together.  As with any good burger, it was a sloppy affair trying to eat it. The seasoned fries were on par with others I have tried. Nothing super special, but a bit better than just plain fried potatoes. If they were not included, I would not order them again.  Save your stomach for poutine.
Little Chef Counter: Pork Belly Poutine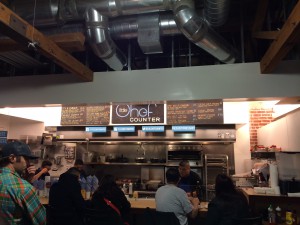 The Little Chef Counter serves French bistro type food, but they are known for their poutine, which is actually Canadian, I think.  Poutine is french fries topped with gravy and cheese curds. Little Chef serves 7 different one, each with a different type of topping and cheese curd. We ordered the pork belly poutine with "Mike's Firehouse" curds.  Wait for some dishes can be 15-20 minutes when they are backed up, so they issue pagers there as well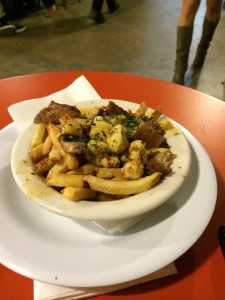 Little Chef's fries are fresh cut from potatoes, and are a medium cut and a bit thicker than the ones at In N Out. The gravy was not overly thick but had a nice light "brothy" quality to it.  The skin of the pork belly was nicely crisped up and the rest was nicely rendered so you did not feel like you were eating a stick of lard.  While I was skeptical about the spicy curds, they actually brought a nice brightness to the dish, with just a bit of heat and a nice counter to the richness of the curds.  not having authentic poutine before, I am not sure what state of meltedness the curds are supposed to be in, but I would have liked to seen more melted gooey-ness like American cheese fries. But maybe that is sacrilegious to poutine purists.
Treatbot :  Banana Nutella & Chocolate Salted Caramel (w/extra caramel)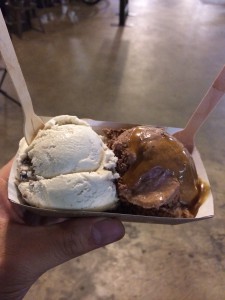 Treatbot serves gourmet ice cream out of their "truck" in the Market, and makes all their ice cream on site in a couple of machines.  They also bake their own cookies which go into their ice cream sandwiches and and waffle cones.  Their flavors rotate based on availability of ingredients.  The night we went, flavors included horchata, pumpkin spice, and cafe sua da (iced Vietnamese coffee).  Single scoops are $3.25, but a double is only $5, so we opted for that, getting Banana Nutella and Chocolate Salted Caramel, which our scooper then poured some extra caramel on top.  The scoops are served in a small paper tray, which are a bit strained in containing the double scoop, both from a volume but also from a weight standpoint because this stuff is pretty dense, indicating very high quality ingredients.  The ice cream base they use is pretty rich, but not overly sweet, even when flavored. Definitely a nice way to round out your dining experience or late night sweet craving.
Verdict:
San Pedro square offers a great place to hang out and socialize. If you work in or near downtown SJ, this would be a great place for happy hour or perhaps drop in before heading over to the Shark Tank for a game.  Parking might be challenging on game day, as the garage next door charges a flat event rate, but non-game days the vendors validate for 2hrs of free parking on weekdays, and all day on weekends.