There are several new shops and restaurants opening in the San Antonio plaza at the border of Mountain View and Los Altos and one of those restaurants is Pacific Catch, which has additional outposts in Campbell, San Francisco, San Mateo. As the name implies, fresh fish is the main attraction, and the concept is seafood with a Californian/Asian fusion flare.
The Hawaiian poke is the standout and signature dish here. There are 7 different varieties of Hawaiian poke, including one with salmon and another with white tuna.  You can order a single serving or opt for the trio, where you can mix and match 3 types of poke, and comes accompanied by fried wanton chips, seaweed salad, and cucumber salad. (see pic below)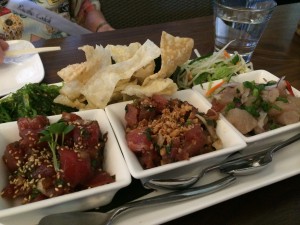 The Original is the standout in the bunch, having a nice sesame soy taste.  The white tuna poke (yuze citrus, fresno chiles, white soy sauce, red onions) tasted more like ceviche, although a wee less vinegary, and a bit muddled. I would have preferred the white tuna plain. The Lomi Lomi (salmon, tomatoes, sweet onions, cilantro, red chiles) had the right concept, but suffered from over salting, namely having large chunks of sea salt within the dish, delivering small salt bombs in an otherwise decent poke.  I am not sure if this done for texture or if the batch we had was not done correctly, but mixing large grains of salt into a poke seems counter-intuitive to me. It should be the fish and not the salt that stands out.  The Ahi Macadema Nut (sweet onions, fresno chile, and macadamia nuts) was the second best of the ones we tried. The nuts provide a nice textural contrast and did not suffer the faults of the Lomi Lomi and macadamia variety.  We like the original so much that on a return trip, we opted for a double order of the original poke when ordering the trio.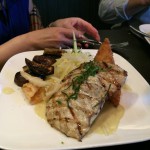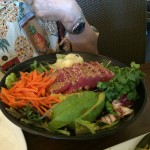 The menu is heavily tilted toward fish, as you might expect, with a daily fresh catch of the day special, sushi rolls,  fish topped salads, fish tacos, fish n chips, sandwiches  and "Pan-Asian" rice bowls.  For non-seafood eaters, they offer sticky ribs, and you can get the rice bowls and salads topped with chicken and steak as well.  The rice bowls can also be ordered with greens instead of rice for those watching your carb intake, or you can do half/half .  The wasabi ahi sandwich was surprisingly good, although it's very rare, so if you don't like sashimi, you should skip it or perhaps order it well done.  All the ingredients were high quality and fresh tasting.  Portions are fairly generous, so if you do order the poke as an appetizer, plan accordingly.  Splitting a poke trio and an entree with a dining companion would be the way to go, and should be more than enough food. While I did not try the sushi rolls, they looked to be on the larger side, so one roll with some poke should be enough to fill you up., unless you are a big eater.  The salads are meal sized and come in large bowls

Poke is definitely the draw at Pacific Catch and it is a must order if you do dine there. They even sell poke to go (priced by the pound) if you want to take some home or want to grab some without dining there.  While the other items on the menu are tasty and well executed, there was not anything unique about the preparation or flavors that provided a "memorable wow" or "fun" factor, but they did hit a home run with the poke.